Catalogs

>

D-Link®

>

DEM-431XT
Catalog excerpts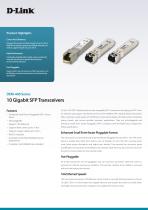 Product Highlights Covers Vast Distances Support for maximum cable lengths of between 80 and 10 kilometres is ideal for businesses spanning multiple premises High Performance Full duplex Gigabit data transfer rates provide the network transmission speeds that business environments demand Hot Pluggable Easily switch out transceivers while the power is on, facilitating network maintenance and minimising downtime Features • Enhanced Small Form-Pluggable (SFP+) form factor • Hot pluggable • Support 10G Ethernet • RoHS Compliant • Compliant with MSA (Multiple Source Agreement) • Compliant with IEEE802.3ae standard D-Link's 10G SFP+ Module series are hot-swappable SFP+ transceivers that plug into SFP+ slots on switches and support 10G Ethernet. The D-Link 10GBASE SFP+ Module Series transceivers offer customers a wide variety of 10G Ethernet connectivity options for data centers, enterprise wiring closets, and service provider transport applications. They are hot pluggable and Enhanced Small Form Factor Pluggable (SFP+) compliant with the Multi-Source Agreement (MSA) specification. Enhanced Small Form-factor Pluggable Format The transceivers use the Enhanced Small Formfactor Pluggable format (SFP+). The SFP+ form factor is smaller than other form factors such as Xenpak, X2, and 10G XFP, ensuring lower costs, lower power disruption, and higher port density. They provide the necessary signal amplification for data to be transmitted to the network cable from the port, and vice versa, for the port to receive data from the etwork cable. Hot Pluggable All D-Link transceivers are hot-pluggable. You can connect a transceiver while the system is powered on without causing any problems. This permits modules to be added or removed without interrupting the network. 10G Ethernet speeds The transceivers all support 10G Ethernet, which results in very fast data transmissions of up to 10 Gbit/s. This is 10 times faster than Gigabit Ethernet and enables the switch to handle faster and higher data transmissions, making it very suitable for business needs.
Open the catalog to page 1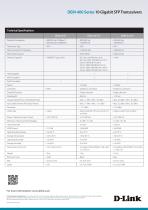 Technical Specifications D-Link European Headquarters. D-Link (Europe) Ltd., First Floor, Artemis Building, Odyssey Business Park, West End Road, South Ruislip HA4 6QE, United Kingdom. Specifications are subject to change without notice. D-Link is a registered trademark of D-Link Corporation and its overseas subsidiaries. All other trademarks belong to their respective owners. ©2018 D-Link Corporation. All rights reserved. E&OE.
Open the catalog to page 2
All D-Link® catalogs and technical brochures
Compare up to 10 products