Catalogs

>

CRYSOUND

>

CRY2623M Fixed Acoustic Imager
Catalog excerpts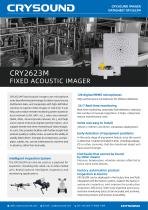 CRYSOUND IMAGER DATASHEET CRY2623M FIXED ACOUSTIC IMAGER CRY2623M Fixed Acoustic Imager uses microphone array beamforming technology to obtain sound source distribution data, and cooperates with high-definition cameras to capture video images in real time. It can help users realize remote monitoring system based on local network (LAN, WIFI, etc.), wide area network (WAN, ADSL, 4G and private network, etc.), and help users realize industrial digital transformation, and support remote real-time monitoring of video images. As such, this provides facilities with further insight into product quality or safety issues, as well as the ability to rapidly detect them. Changes to compressors, pumps, pipes, cables, etc. can be understood in real time and in advance, rather than manually. Intelligent Inspection System The CRY2623M can also be used as a payload for inspection, including UAV, robot, car or other mobile unit, Realizingmore intelligent inspection and monitoring applications. 128 digital MEMS microphones High-performance microphones for efficient detection. 24/7 Real-time monitoring Real-time monitoring, automatic fault detection, reducing the number of manual inspections. It helps enterprises reduce maintenance costs. Some size easy to install 183mm x 169mm x 83.35mm, contactless deployment. Early detection of equipment problems In the early stage of equipment failure, once the sound is abnormal, it will be reminded in time, including leakage, PD or other scenarios that the monitored object will have sound changes. Find faults that cannot be found by other means Pressure, temperature, vibration sensors often fail to sense some early failures. Factory automation product inspection & Alarms CRY2623M can be deployed in the factory line and fully integrated with the factory system, support the factory's automatic inspection, and improve the production inspection efficiency. With fully digitized processes, real-time monitoring data can be recorded and archived, improving product and process traceability.
Open the catalog to page 1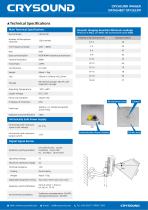 CRYSOUND IMAGER DATASHEET CRY2623M ▲Technical Specifications Main Technical Specifications Device Model Number of Microphone Channels Test Frequency Range Data communication Acoustic Imaging Guardian Minimum Leakage (Pressure 0.5Mpa, 20-40kHz site environment noise 40dB) Distance to Sound Source (m) RTSP/RTMP streaming transmission Camera Resolution Frame Rate Test Distance 8G internal storage, 64G TF card expansion storage Storage Operating Temperature Supply Voltage Power Consumption Bottom 1/4 -20UNC thread/M5 screw fixing Explosion-proof certification All-aluminum Case Intrinsically Safe...
Open the catalog to page 2
All CRYSOUND catalogs and technical brochures

Compare up to 10 products