Catalogs

>

SC Inverted Tooth Chain
Catalog excerpts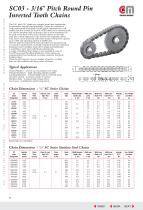 SC03 - 3/16" Pitch Round Pin Inverted Tooth Chains The 3/16" pitch 'SC' chains use a simple round pin construction for maximum strength and durability. Chains are available in both centre guide and single outside guide constructions in all widths, but it is normal for narrow width chains to be outside guide. The chains articulate fully on the pin, and as such tensioners can be used on the back of the chain; also the chains can be built with sets of teeth opposed to one another for serpentine drives. Tiny drives can be achieved with these chains, with power capacity up to 4 kW, and operating speeds to 10,000 rpm. All 3/16" pitch inverted tooth chain sprockets are manufactured to customer requirements, normally manufactured from induction hardened steel. Complete chain drive design and fabrication is available to meet your individual requirements. A range of Stainless Steel chains is also available for use in Food Process and Handling Machinery. These chains are manufactured from hardened, corrosion resistant, 304 grade Stainless Steel. Chain lengths must be of even number of pitches, as offset links are not available with these series of chains. Typical Applications Check Weighers - used to convey product over scales Postage Machinery - high operating speeds possible Copying Machines - transmit high loads in confined space Aircraft Controls - Accurate transfer of motion Machine Tools - Compact high torque drives Conveyors - handling hot small components Chain Dimensions - 3/16" SC Series Chains Nominal Width Inches Chain Pitch ins(mm) Chain Ht. over Spkt. PCD A mm Guide Type Width between Guide Links C mm 2.4 4.0 5.6 7.1 10.3 Width over Links F mm Width over Rivet Pin D mm Width over Conn Pins E mm Standard Chains are in bold typeface Chain Dimensions - 3/16" SC Series Stainless Steel Chains 'SC' Chain Designation Nominal Width Inches Chain Pitch ins(mm) Guide Type Width between Guide Links C mm Width over Links F mm Width over Rivet Pin D mm Width over Conn Pins E mm Chain Ht. over Spkt. PCD A mm
Open the catalog to page 1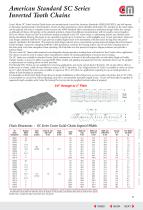 American Standard SC Series Inverted Tooth Chains Cross+Morse 'SC' Series Inverted Tooth chains are manufactured to meet the American Standards ASME(ANSI) B29.2, and will operate on Sprockets manufactured to that Standard. Chains of other manufacture, often identified with letters 'SC' stamped on the outer plates, can be replaced, but only as complete chains, because the ASME Standard allows manufacturers individual design within the concept, so although all chains will operate on the standard sprockets, chains from different manufacturers will not usually connect together. All Cross+Morse...
Open the catalog to page 2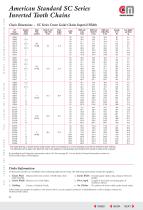 Nominal Width Inches Chain Dimensions - SC Series Centre Guide Chains Imperial Widths American Standard SC Series Inverted Tooth Chains Chain Pitch ins(mm) Chain Ht. over Spkt. PCD A mm Guide Type Width over Links F mm Width over Rivet Pin D mm Width over Drilled Pins E mm * The Guide Spacing on Double Centre Guide Chains varies by manufacturer, it is thus necessary to provide this dimension when ordering. The dimension can be taken from either the chain to be replaced, or the sprockets, and should be from centre to centre of link or groove For Installation and Lubrication information refer...
Open the catalog to page 3
All Cross & Morse catalogs and technical brochures

Archived catalogs
Compare up to 10 products