Catalogs

>

Service Pleated Fiberglass Depth Cartridge Filters
Catalog excerpts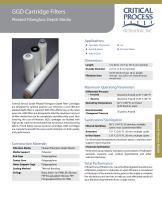 GGD Cartridge Filters Pleated Fiberglass Depth Media Applications Specialty Chemicals Acids & Bases Process Water Inks & Dyes Dimensions Length Outside Diameter Filtration Area 5.8 ft2 (0.54 m2) per 10 in. length (Average - area varies with media thickness and porosity) Maximum Operating Parameters Differential Pressure • Forward Operating Temperature Recommended Changeout Pressure 82 °C (180 °F) at 10 psid (0.69 bard) in water 35 psid (2.4 bard) Filtration Media Pleated Fiberglass Depth Media Media Support Center Core Outer Support Cage Sealing Method Thermal Bonding Buna, Viton® (or FKM), EP, Silicone, FEP Encapsulated Silicone, FEP Encapsulated Viton (or FKM) 90 °C (194 °F), 30 minutes, multiple cycles, max 3 psid forward flow In-line Steam Construction Materials For all elevated temperature procedures above, a stainless steel support ring is required. Chemical Sanitization Performed using industry standard concentrations of hydrogen peroxide, paracetic acid, sodium hypochlorite and other selected chemicals. Total Performance Critical Process Filtration, Inc. is a vertically integrated manufacturer of filtration products to industries in which filtration is considered a critical part of the manufacturing process. We supply a complete line of products and services to help you cost effectively satisfy all your filtration requirements from a single source. General Service Grade General Service Grade Pleated Fiberglass Depth Filter Cartridges are designed for general purpose use wherever a cost effective pleated depth filter is required. With 99% efficiencies at the rated pore size, GGD filters are designed to hold the maximum amount of filter media that can be completely and effectively used, thus lowering the cost of filtration. GGD cartridges are flushed with high purity water to remove potential extraneous manufacturing debris. Priced below special purpose cartridges, GGD cartridges are manufactured with the same careful attention to both quality and performance.
Open the catalog to page 1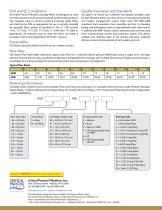 All Critical Process Filtration cartridge filters are designed to meet the FDA requirements for processing food and beverage products. The materials used to construct food & beverage grade filters are listed by the FDA as appropriate for use in articles intended for repeated food contact as specified in Title 21 CFR sections 174.5, 177.1500, 177.1520, 177.1630, 177.2440 and 177.2600 as appropriate. All materials used to make the filters are listed in European Commission Regulation EU/10/2011, Annex 1. Quality Assurance and Standards Our goal is to ensure our customers the greatest possible...
Open the catalog to page 2
All Critical Process Filtration catalogs and technical brochures

Compare up to 10 products