Catalogs

>

Pleated & Cylinder Stainless Steel Filter Cartridges
Catalog excerpts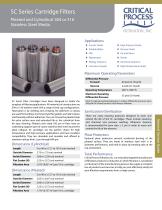 SC Series Cartridge Filters Pleated and Cylindrical 304 or 316 Stainless Steel Media Applications Caustic Fluids High Pressure Fluids Potable Water Viscous Fluids Plating Solutions Chemical Solutions Corrosive Liquids High Temperature Fluids Maximum Operating Parameters Differential Pressure Forward Operating Temperature Maximum Operating Differential Pressure Dimensions (Cylindrical) Length Outside Diameter Inside Diameter Filtration Area Dimensions (Pleated) Length Outside Diameter Inside Diameter Filtration Area Note: For special engineered designs, to achieve differential pressures up to 500 psid (34.4 bard) consult Critical Process Filtration. Sanitization/Sterilization There are many cleaning protocols designed to clean and extend the life of the SC cartridges. These include steaming and chemical and pressure washing. Ultrasonic cleaning is recommended for pore sizes ≤ 5 µm in order to reuse and extend the life of the element. Pleat Protectors Optional pleat protectors prevent accidental denting of the pleated surface. They are made of stainless steel with ¼ in. diameter perforations, and held in place by bending tabs at the top and bottom. Total Performance Critical Process Filtration, Inc. is a vertically integrated manufacturer of filtration products to industries in which filtration is considered a critical part of the manufacturing process. We supply a complete line of products and services to help you cost effectively satisfy all your filtration requirements from a single source. General Service Grade SC Series Filter Cartridges have been designed to tackle the toughest of filtering applications. All materials of construction are 304 or 316 stainless steel with a range of end cap configurations. Fabrication is by welding and crimping. No adhesives or epoxy are used for bonding. Grommet style flat gaskets are held in place mechanically without adhesives. You can choose the pleated style for extra surface area and extended life or the cylindrical form for easy cleaning. Pleated units rated 100 µm or finer have an underlying support layer of coarse stainless steel mesh to prevent pleat collapse. SC cartridges are the perfect choice for high temperature and high pressure applications and have excellent compatibility. They are cleanable and reusable and offered in retention ratings from 2 µm through 840 µm.
Open the catalog to page 1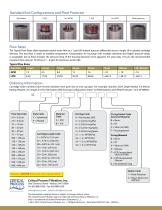 Standard End Configurations and Pleat Protector Flat Gasket Pleat protector Flow Rates The Typical Flow Rates table represents typical water flow at a 1 psid (69 mbard) pressure differential across a single 10 in. pleated cartridge element. The test fluid is water at ambient temperature. Extrapolation for housings with multiple elements and higher pressure drops is acceptable, but as flows increase the pressure drop of the housing becomes more apparent. For pore sizes ≥10 µm, the recommended maximum flow rate per 10 inches is 7 – 8 gpm for maximum service life. Typical Flow Rates Pore Size...
Open the catalog to page 2
All Critical Process Filtration catalogs and technical brochures

Compare up to 10 products