Catalogs

>

Melt Blown Nylon Depth Cartridge Filters
Catalog excerpts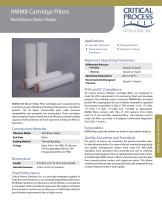 NMMB Cartridge Filters Melt Blown Nylon Media Applications Specialty Chemicals Plating Solutions hoto Resists and P Developers Magnetic Coatings Maximum Operating Parameters Differential Pressure • Forward Operating Temperature Recommended Changeout Pressure Construction Materials Filtration Media Melt Blown Nylon Sealing Method Thermal Bonding Buna, Viton® (or FKM), EP, Silicone, FEP Encapsulated Silicone, FEP Encapsulated Viton (or FKM) Dimensions Length Outside Diameter Total Performance Critical Process Filtration, Inc. is a vertically integrated supplier of Critical Process Filtration, Inc. is a vertically integrated manufacturer of filtration products to industries in which filtration is considered a critical part of the manufacturing process. We supply a complete line of products and services to help you cost effectively satisfy all your filtration requirements from a single source. NMMB filters typically exhibit low levels of non-volatile residues. Quality Assurance and Standards Our goal is to ensure our customers the greatest possible value for their filtration dollar. Our state of the art manufacturing facility and quality management system both meet ISO 9001:2008 standards. Each operation from assembly and test to cleaning, drying, and packaging is done in appropriately rated clean rooms. A sophisticated MRP system collects and processes real time data from manufacturing centers and inspection points. This allows variable and attribute data to be quickly and easily analyzed driving constant improvements in both quality. General Service Grade NMMB Melt Blown Media Filter Cartridges are manufactured by a continuous spun-bonding technology that assures a consistent product. The all Nylon construction gives wide chemical compatibility and extremely low extractables. These cartridges offer exceptional value in both removal efficiency and dirt holding capacity where protection of more expensive membrane filters is important. All Critical Process Filtration cartridge filters are designed to meet the FDA requirements for processing food and beverage products. The materials used to construct NMMB filters are listed by the FDA as appropriate for use in articles intended for repeated food contact as specified in Title 21 CFR sections 174.5, 177.1500, 177.1520, 177.1630, 177.2440 and 177.2600 as appropriate. NMMB filters comply with Title 21 CFR sections 210.3 (b)(6) and 211.72, for non-fiber releasing filters. All materials used to make the filters are listed in European Commission Regulation EU/10/2011, Annex 1.
Open the catalog to page 1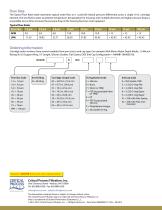 Flow Rate The Typical Flow Rates table represents typical water flow at a 1 psid (69 mbard) pressure differential across a single 10 in. cartridge element. The test fluid is water at ambient temperature. Extrapolation for housings with multiple elements and higher pressure drops is acceptable, but as flows increase the pressure drop of the housing becomes more apparent. Typical Flow Rates Pore Size Ordering Information Cartridge order numbers have several variables from pore size to end cap type. For example: Melt-Blown Nylon Depth Media, 1.0 Micron Rating, No SS Support Ring, 10" Length,...
Open the catalog to page 2
All Critical Process Filtration catalogs and technical brochures

Compare up to 10 products