Catalogs

>

Food & Bev Pleated Polypro Depth Capsules
Catalog excerpts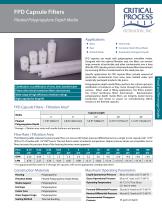 FPD Capsule Filters Pleated Polypropylene Depth Media Applications Wine Soft Drinks Container Wash/Rinse Water Bottled Water Aseptically Packaged Liquids FPD capsules are made with polypropylene microfiber media. Designed with the optimal filtration area, the filters can remove large amounts of particulate and other contaminants over a long filter life. FPD capsules protect critical membrane filters downstream by removing 99.9% of contaminants at the rated pore size. C larification or prefiltration of wine, beer, bottled water Protect the critical membrane filters downstream W ide range of high efficiency retention ratings High capacity for long life Polypropylene depth media filters perform the critical upstream clarification of products as they move through the production process. When used in filling applications, the filters protect the critical membrane filters downstream. Representative polypropylene depth media filters are integrity tested during production and rinsed to assure no manufacturing debris remains in the finished capsules. FPD Capsule Filters - Filtration Area* Capsule Length Pleated Polypropylene Depth *Average – Filtration area varies with media thickness and porosity. Flow Rate / Filtration Area The following table represents typical water flow at a one psi (69 mbar) pressure differential across a single 2 inch capsule with 1.0 ft² (930 cm²) of media with 1/2" FNPT ports. The test fluid is water at ambient temperature. Higher pressure drops are acceptable, but as flows increase the pressure drop of the housing becomes more apparent. Pore Size * For approximate flow rates for 5" through 30" capsules, refer to the appropriate cartridge data sheet Construction Materials Maximum Operating Parameters Liquid Operational Pressure Filtration Media Pleated Polypropylene Depth Media Gases Operational Pressure Media Support Operating Temperature Center Core Outer Support Cage Sealing Method Thermal Bonding Forward Differential Pressure 50 psid (3.4 bard) at 20 °C (68 °F) Reverse Differential Pressure Recommended Changeout Pressure Food and Beverage Grade Specific applications for FPD capsule filters include removal of particulate contaminants from wine, beer, bottled water and aseptically packaged products like juices.
Open the catalog to page 1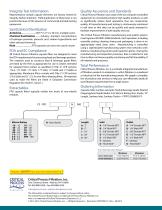 Integrity Test Information Representative sample capsule elements are factory tested for integrity before shipment. Field duplication of these tests is not practical because of the absence of commercial portable testing equipment. All Critical Process Filtration capsule filters are designed to meet the FDA requirements for processing food and beverage products. The materials used to construct food & beverage grade filters are listed by the FDA as appropriate for use in articles intended for repeated food contact as specified in Title 21 CFR sections 174.5, 177.1500, 177.1520, 177.1630,...
Open the catalog to page 2
All Critical Process Filtration catalogs and technical brochures

Compare up to 10 products