Catalogs

>

Food & Bev High Capacity PVDF Capsules
Catalog excerpts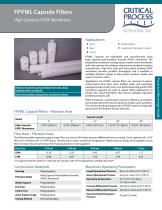 FPVWL Capsule Filters High Capacity PVDF Membrane Applications Wine Bottled Water Aseptically Packaged Liquids Applications for FPVWL capsule filters are removal of organic contaminants from beer, wine, bottled water, and aseptically packaged products like juices. Our food & beverage grade PVWL membrane capsules are used in aseptic filling applications to protect the critical final filters that remove spoilage organisms and keep products safe. Remove bacterial and particles from wine, beer, bottled water and juices Ultra-low product adsorption to preserve flavor FPVWL Capsule Filters - Filtration Area Media High Capacity PVDF Membrane PVDF membrane is particularly suited for filtration of products that contain elements that can adsorb to media, such as proteins. The very low binding characteristics of PVDF make it an especially good choice for filtration of beer and wine. Capsule Length Flow Rate / Filtration Area The following table represents typical water flow at a one psi (69 mbar) pressure differential across a single 2 inch capsule with 1.0 ft² (930 cm²) of media with 1/2" FNPT ports. The test fluid is water at ambient temperature. Higher pressure drops are acceptable, but as flows increase the pressure drop of the housing becomes more apparent. 0.22 μm Pore Size * For approximate flow rates for 5" through 30" capsules, refer to the appropriate cartridge data sheet Construction Materials Maximum Operating Parameters Liquid Operational Pressure Filtration Media High Capacity Polyvinylidene fluoride (PVDF) Membrane Gases Operational Pressure Operating Temperature Media Support Forward Differential Pressure 50 psid (3.4 bard) at 20 °C (68 °F) Center Core Reverse Differential Pressure Outer Support Cage Sealing Method Thermal Bonding Recommended Changeout Pressure Food and Beverage Grade FPVWL Capsules are hydrophilic and manufactured using high capacity polyvinylidene fluoride (PVDF) membrane. The proprietary membrane casting process creates a thick membrane with high capacity for holding contaminants, excellent retention characteristics, high flow rates and low protein binding. PVDF membrane provides excellent throughput and is available in multiple retention ratings to help protect product quality and assure consumer safety.
Open the catalog to page 1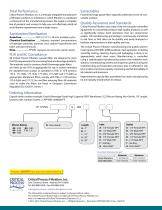 Total Performance Critical Process Filtration, Inc. is a vertically integrated manufacturer of filtration products to industries in which filtration is considered a critical part of the manufacturing process. We supply a complete line of products and services to help you cost effectively satisfy all your filtration requirements from a single source. All Critical Process Filtration capsule filters are designed to meet the FDA requirements for processing food and beverage products. The materials used to construct food & beverage grade filters are listed by the FDA as appropriate for use in...
Open the catalog to page 2
All Critical Process Filtration catalogs and technical brochures

Compare up to 10 products