Catalogs

>

Electronics Polypro Membrane Capsules
Catalog excerpts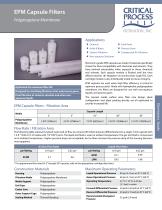 EPM Capsule Filters Polypropylene Membrane Applications Etchants Tank Vents Acids & Bases Process Gases Solvent Filtration Non-aqueous Solutions Electronics grade EPM capsules are made of materials specifically chosen for their compatibility with chemicals and solvents. They have minimal extractables when exposed to those chemicals and solvents. Each capsule module is flushed until the rinse effluent reaches 18+ Megohm-cm and less than 3 ppb TOC. Each cartridge module is also individually tested to ensure integrity. Optimized for maximum filter life Designed for sterilizing filtration of air and process gases F inal filtration of solvents, alcohols and other nonaqueous liquids The capsule media surface area, filter core design, pleat configuration and pleat packing density are all optimized to provide increased life. Capsule Length Polypropylene Membrane Flow Rate / Filtration Area The following table represents typical water and air flow at a one psi (69 mbar) pressure differential across a single 2 inch capsule with 1.0 ft ² (930 cm²) of media with 1/2" FNPT ports. The liquid test fluid is water at ambient temperature. The gas test fluid is compressed air at ambient temperature. Higher pressure drops are acceptable, but as flows increase the pressure drop of the housing becomes more apparent. Air/Gas Flow Rates Liquid Flow Rates * For approximate flow rates for 5" through 30" capsules, refer to the appropriate cartridge data sheet Construction Materials Maximum Operating Parameters Liquid Operational Pressure Filtration Media Polypropylene Membrane Gases Operational Pressure Media Support Operating Temperature Center Core Forward Differential Pressure Outer Support Cage Reverse Differential Pressure Sealing Method Thermal Bonding Recommended Changeout Pressure Electronics Grade EPM Capsule Filters - Filtration Area EPM capsules are used when high filter efficiency is critical to optimum process yield. Made with hydrophobic polypropylene membrane, the filters are designed for use with non-aqueous liquids, and process gases.
Open the catalog to page 1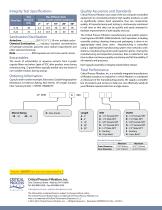 Integrity Test Specifications Pore Size Quality Assurance and Standards Critical Process Filtration uses state of the art computer controlled equipment to consistently produce high quality products as well as significantly reduce hand operations that can compromise quality. All manufacturing and testing is continuously monitored in real time so that data can be quickly and easily analyzed to facilitate improvements in both quality and cost. Max Diffusion Rate (cc/min -water wetted membrane) The levels of extractables in aqueous extracts from E-grade capsule filters are below 3ppb of TOC...
Open the catalog to page 2
All Critical Process Filtration catalogs and technical brochures

Compare up to 10 products