Catalogs

>

Electronics Pleated Polypropylene Depth Cartridge Filters
Catalog excerpts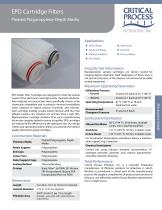 EPD Cartridge Filters Pleated Polypropylene Depth Media Plating Solutions Process Water Etch Baths Integrity Test Information Representative sample cartridges are factory tested for integrity before shipment. Field duplication of these tests is not practical because of the absence of commercial portable testing equipment. Maximum Operating Parameters Differential Pressure Construction Materials Filtration Media Pleated Polypropylene Depth Media Media Support Center Core Outer Support Cage Sealing Method Thermal Bonding Buna, Viton® (or FKM), EP, Silicone, FEP Encapsulated Silicone, FEP Encapsulated Viton (or FKM) Dimensions Length Outside Diameter Filtration Area (Average - area varies with media thickness and porosity) Operating Temperature 82 °C (180 °F) at 10 psid (0.69 bard) in water Recommended Changeout Pressure Sanitization/Sterilization Filtered Hot Water 90 °C (194 °F), 30 minutes, multiple cycles, max 3 psid forward flow In-line Steam For all elevated temperature procedures above, a stainless steel support ring is required. Chemical Sanitization Carried out using industry standard concentrations of hydrogen peroxide, paracetic acid, sodium hypochlorite, and other selected chemicals. Total Performance Critical Process Filtration, Inc. is a vertically integrated manufacturer of filtration products to industries in which filtration is considered a critical part of the manufacturing process. We supply a complete line of products and services to help you cost effectively satisfy all your filtration requirements from a single source. Electronics Grade EPD Depth Filter Cartridges are designed to meet the special needs of the electronics and high-purity chemical industries. Raw materials of construction were specifically chosen to be chemically compatible and to produce minimal extractables when exposed to typical process chemicals and solvents. Each cartridge module is pulse power flushed until the rinse effluent reaches 18+ megohm-cm and less than 3 ppb TOC. Representative cartridge modules from each manufacturing lot are also integrity tested to assure lot quality. EPD cartridges are rated at 99.9% efficiencies at the rated pore size. Our design criteria and special procedures allow us to provide the highest quality electronics grade cartridges.
Open the catalog to page 1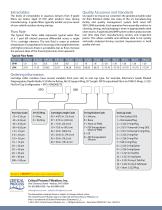 The levels of extractables in aqueous extracts from E-grade filters are below 3ppb of TOC after product rinse during manufacturing. E-grade filters typically exhibit very low levels of non-volatile residues during startup. Flow Rate The Typical Flow Rates table represents typical water flow at a 1 psid (69 mbard) pressure differential across a single 10 in. cartridge element. The test fluid is water at ambient temperature. Extrapolation for housings with multiple elements and higher pressure drops is acceptable, but as flows increase the pressure drop of the housing becomes more apparent....
Open the catalog to page 2
All Critical Process Filtration catalogs and technical brochures

Compare up to 10 products