Catalogs

>

36, 52 & 80 Cartridge Industrial Filter Housings
Catalog excerpts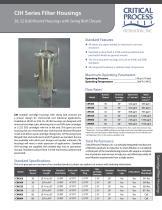 CIH Series Filter Housings 36, 52 & 80 Round Housings with Swing Bolt Closure Standard Features ll seams are argon welded for maximum corrosion A resistance. tandard surface finish is #320 machine polished and S passivated. Welds are ground smooth he CIH swing bolt housings are built to ASME and GMP T standards. All swing bolt hardware is stainless steel components. Maximum Operating Parameters Flow Rates1 Number Round Nominal Cartridge Length Water Flow @ 1 micron* Water Flow @ 10 micron** CIH multiple cartridge housings with swing bolt closures are a proven design for commercial and industrial applications. Available in 304 SS or 316L SS, all CIH housings are designed with universal cartridge cups, allowing you to use DOE style cartridges or 2-222 SOE cartridges with fin or flat end. This gives you one housing that can meet both your nominal and absolute filtration needs and allows quick cartridge changeouts. CIH housings have flanged inlet and outlet ports and EP gaskets as standard, but are also available with other port designs and gasket materials. CIH housings will meet a wide spectrum of applications. Standard CIH housings are supplied with welded legs and an operations manual. Standard surface finish is #320 machined, polished and passivated. Total Performance Critical Process Filtration, Inc. is a vertically integrated manufacturer of filtration products to industries in which filtration is considered a critical part of the manufacturing process. We supply a complete line of products and services to help you cost effectively satisfy all your filtration requirements from a single source. This is to give you an overview of our standard product, please see options on reverse with ordering information. Number Round Cartridge Length Standard Inlet/Outlet Drain with Plug Vent with Plug Standard Gasket Mounting Legs Lifting Davit Estimated Ship Weight Cartridge Filter Housings Standard Specifications * Based on a 1 micron GDMB melt blown cartridge at less than 2 psid clean pressure drop. ** Based on a 10 micron GDMB melt blown cartridge at less than 2 psid clean pressure drop. ¹ ote: Flows will vary based on fluid filtered, viscosity, temperature, micron selection and N cartridge type. This is to be used as a guideline only.
Open the catalog to page 1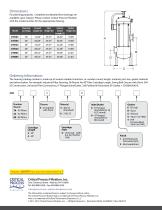 For planning purposes. Complete and detailed line drawings are available upon request. Please contact Critical Process Filtration with the model number for the appropriate drawing. Nominal Cartridge Overall Inlet Length (A) Height (B) Outlet Inlet to Height (D) Outlet Length (C) Ordering Information The housing catalog number is made up of several variable characters i.e. number round, length, material, port size, gasket material and others below. For example: Industrial Filter Housing, 36-Round, for 40" Filter Cartridge Length, Swing Bolt Closure with Davit, 304 SS Construction, Universal...
Open the catalog to page 2
All Critical Process Filtration catalogs and technical brochures

Compare up to 10 products