Catalogs

>

Super Wrap 1600 de Luxe in Line
Catalog excerpts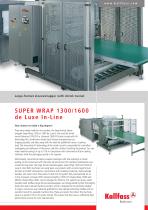 Large-format sleevewrapper with shrink tunnel S U P E R  W R A P 1 3 0 0 / 1 6 0 0 de Luxe In-Line Your chance to make a big impact! They were simply made for one another: the large format sleevewrapper Super Wrap 1300 or 1600 de Luxe In-Line and the shrink tunnel Universal 1300 NT or Universal 1600 NT shrink tunnel with HV technology.This combination makes total closure transportation packaging possible, and does away with the need for additional fusion or sealing tools. The innovative HV technology of the shrink tunnel is responsible for controlled overlapping and adhesion of the excess side film, without touching the product. You can make material savings of up to 15% in comparison with conventional fusion sealing methods, while the packaging quality is far superior. Alternatively, conventional sleeve wrapper packages with side openings or fusion sealing can be carried out with the basic tunnel version.This machine combination was created for big tasks: the large format sleevewrappers Super Wrap 1300 and 1600 de Luxe In-Line. Both machines can easily pack any products with an extra large format: furniture and shelf components, construction and insulating materials, multi-package bundles, and much more. The product is fed into the system fully automatically on an in-line transport conveyor. With clearance heights of 500 mm (Super Wrap 1300) and 400mm (Super Wrap 1600, can be enlarged to 700mm), this system has all you could possibly need. Kallfass large-format sleevewrappers are distinguished by their thoroughly tested and well matured machine concept, which is designed to be extremely reliable. In tough, continuous use industrial applications, they operate extremely reliably with an excellent record for available machine time. These are results that show: the machines pack at a speed of 18 or 20 cycles/ minute. This means that they have a sufficiently high performance reserve for most requirements.
Open the catalog to page 1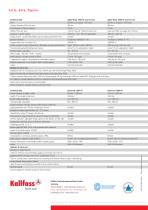 Technical data Film: Outside diameter of film reel, max.: Core diameter of film reel, approx.: Width of film reel, max.: Clearance in width / height: Sealing system - permanently heated, special coating,maintenance free: Operator interface: Programmable logic controller (PLC): In-line transport conveyor (infeed area) / Discharge conveyor (outfeed area): Pneumatically operated holding-down device: Working height, adjustable: Power supply - 400 volts - 50 Hz - 3-phase: Rated capacity / Nominal current at 400 V: Compressed air supply / Compressed air consumption approx.: Machine dimensions in...
Open the catalog to page 2
All CPS&S Inc. / Kallfass USA catalogs and technical brochures

Archived catalogs
Compare up to 10 products