Catalogs

>

High-Performance Shrink Tunnel - Compact 650 D
Catalog excerpts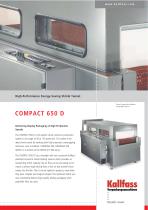 High-Performance Energy-Saving Shrink Tunnel Tunnel Inspection Window chargeable option COMPACT 650 D Delivering Display Packaging at High Production Speeds The COMPACT 650 D is the perfect shrink tunnel for production speeds in the range of 50 to 150 packs/min. This makes it the ideal shrink tunnel for working with fully-automatic overwrapping machines, such as Kallfass' UNIVERSA 400, UNIVERSA 500 SERVO, or machines of the SERVO JET 400 series. The COMPACT 650 D has a chamber with two successive Kallfass' patented concentric nozzle heating systems which provides an outstanding shrink capacity. The air flow can be accurately set to create a uniform high-velocity flow of hot air that transfers heat evenly into the film. Film is shrunk tightly to products, even when they have complex and irregular shapes. This optimised shrink process consistently delivers high-quality display packaging when polyolefin films are used. Results count.
Open the catalog to page 1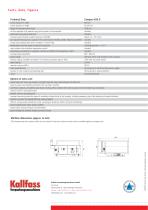 Facts, data, figures Technical Data tunnel clearance in width: tunnel clearance in height: length of the heated tunnel hood: air-flow regulation with patented ring nozzle system in twin execution: maintenance free plastic-mesh-belt: transport speed infinitely variable, frequency controlled: two separate heating zones, capacity of the tunnel blowers infinitely variable, frequency controlled energy saving heating with special insulation in tunnel hood: temperature control by means of electronic thermostat: wear resistant and contactless temperature control: safety device according to EC...
Open the catalog to page 2
All CPS&S Inc. / Kallfass USA catalogs and technical brochures

Archived catalogs
Compare up to 10 products