Catalogs

>

Fully-Automatic Side-Sealer - Universa 800
Catalog excerpts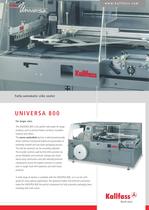 w w w. k a l l f a s s. c o m Fully-automatic side sealer UNIVERSA 800 For larger sizes The UNIVERSA 800 is the perfect side sealer for larger products, such as picture frames, furniture, insulation material and others. The servo-controlled seal bar is electromechanically driven (without mechanical brake) and guarantees an extremely smooth and low-wear packaging process. The seal bar pressure can be accurately adjusted. The encoder controls used by KALLFASS provide maximum flexibility and minimum change over times. Heavy-duty construction and well selected premium components assure the highest amount of runtime, even in tough multi-shift operation and with heavy products. A wide range of options is available with the UNIVERSA 800, so it can be configured for many special applications. The optional modem and Ethernet connection make the UNIVERSA 800 the perfect component for fully automatic packaging lines, including with main server.
Open the catalog to page 1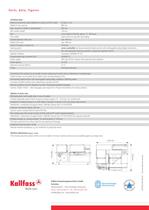 Fa c t s, d a t a , f i g u r e s Technical Data Maximum production speed (depends on product and film used): Width of cross seal bar: Max. clearance in height of sealing frame: Min. product length: Film: Film cradle: Outside diameter of film reel: Width of film reel: Speed of transport conveyor, fix: Sealing system: Operator interface: Programmable logic controller (PLC): Power supply: Rated capacity: Nominal current (at 400 V): Colour: 65 packs / min 800 mm 300 mm 120 mm centre-folded or flat film, approx. 12 - 80 micron close to floor for easy film reel loading max. 400 mm max. 900 mm 20...
Open the catalog to page 2
All CPS&S Inc. / Kallfass USA catalogs and technical brochures

Archived catalogs
Compare up to 10 products