Catalogs

>

Fully automatic Shrink Wrapping Machine SERVO PACKER 500
Catalog excerpts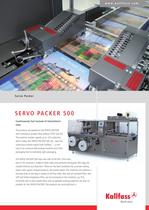 w w w. k a l l f a s s. c o m Servo Packer S E RV O PAC K E R 5 0 0 Continuously fast instead of intermittent slow The products are packed on the SERVO PACKER with continuous product flow without STOP and GO. The machine reaches speeds up to 120 cycles/min, which makes the SERVO PACKER 500 the "new fast continuous-motion hybrid from Kallfass" – a mixture of an universal side-sealing machine and a film packaging line for extremely tight packaging. The SERVO PACKER 500 uses two rolls of flat film. Film transport in the machine is made on both sides and perfectly rectangular film bags are created without any distortion. These are the best conditions for accurate sealing seams with square-shaped products, like praline boxes. This machine runs without a forming shoe, as the bag is sealed on all four sides. Not only all standard films, also stiff and brittle biopolymer films can be processed on this machine, e.g. PLA. Extremely dull or poor quality films with acceptable sealing properties are also no problem for the SERVO PACKER. The products are centrically fed in.
Open the catalog to page 1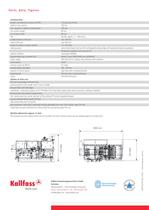 Fa c t s, d a t a , f i g u r e s Technical Data product rate depends on product and film: 120 packs per minute width of cross seal bar: 550 mm max. clearance in height of sealing frame: 200 mm min. product length: 80 mm min. product width: 80 mm film: flat film, approx. 11 - 100 micron outside diameter of film reel: max. 400 mm width of film reel: max. 650 mm speed of transport conveyor, variable: 10 – 35 m/min. sealing system: permanently heated seal bar with exchangeable sealing ledge, with absolutely inodorous operation, temperature regulation and survey by PLC operator interface:...
Open the catalog to page 2
All CPS&S Inc. / Kallfass USA catalogs and technical brochures

Archived catalogs
Compare up to 10 products