Catalogs

>

Fully-automatic high-performance side sealer with continuous motion sealing system SERVO JET 400
Fully-automatic high-performance side sealer with continuous motion sealing system SERVO JET 400


2

Pages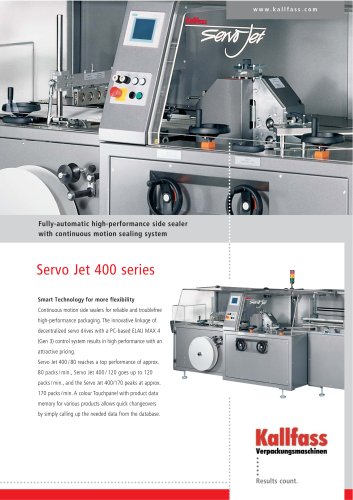 Catalog excerpts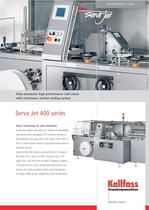 www.kallfass.com Fully-automatic high-performance side sealer with continuous motion sealing system Servo Jet 400 series Smart Technology for more flexibility Continuous motion side sealers for reliable and troublefree high-performance packaging. The innovative linkage of decentralized servo drives with a PC-based ELAU MAX 4 (Gen 3) control system results in high performance with an attractive pricing. Servo Jet 400 / 80 reaches a top performance of approx. 80 packs / min., Servo Jet 400 / 120 goes up to 120 packs / min., and the Servo Jet 400/170 peaks at approx. 170 packs / min. A colour Touchpanel with product data memory for various products allows quick changeovers by simply calling up the needed data from the database. Results count.
Open the catalog to page 1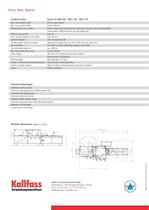 Facts, data, figures Technical data Min./max. product length: Min./max. product width: Sealing systems (cross sealer) Width of cross seal bar: Max. clearance height of cross sealer: Operator interface: Variable speeds transport conveyor: Film reel width: Film reel outside diameter: Min./max. width of film scrap: Power supply: Working height: Position of control panel and operating side: Position of control cabinet: Special coating, permanently heated, maintenance free, fast and easy exchangeable sealing ledge in different profiles for high-quality seals colour Touchpanel, ELAU depending on...
Open the catalog to page 2
All CPS&S Inc. / Kallfass USA catalogs and technical brochures

Archived catalogs
Compare up to 10 products