Catalogs

>

Fully-Automatic, Continuous-Motion Side Sealer UNIVERSA 800 SERVO
Catalog excerpts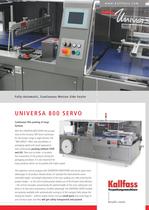 w w w. k a l l f a s s. c o m Fully-Automatic, Continuous-Motion Side-Sealer U N I V E R S A 8 0 0 S E RV O Continuous film packing of large formats With the UNIVERSA 800 SERVO the success story of the Universa 500 Servo continuous for the product range in lager formats. The "800 SERVO" offers new possibilities in packaging-speed and visual appearance with continuously packing without STOP and GO. There are no brake- or acceleration movements of the products during the packaging procedure. It is very important for heavy products which can be packed with higher speed. The ingenious control program with SIEMENS® SIMOTION® and Servos gives more advantages to all product relevant drives, for example the electromotive servocontrolled height- and length adjustment of the cross sealing unit: after entering the product height – or the call of saved product details out of the Product Data Memory – the control calculates automatically the optimal height of the cross sealing bar and drives it to that point autonomous. Another advantage: the UNIVERSA SERVO models are optional available with automatically running-in of the transport belts above the sealing bar breach – without output losses! Just put small parts and screw bags to your furniture parts and they will get safely transported and packed. Results count.
Open the catalog to page 1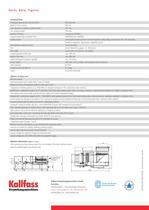 Fa c t s, d a t a , f i g u r e s Technical Data Packaging capacity due to product/film: width of cross seal bar: max. clearance in height of sealing frame: min. product length: operator interface : programmable logic controller (PLC) sealing system: electromotive sealing bar drive: film: film cradle outside diameter of film reel: width of film reel: speed of transport conveyor, variable: power supply: rated capacity: nominal current (at 400 V): colour: 80 cycles/min. 850 mm 250 mm 100 mm Touchpanel SIEMENS SIMOTION from SIEMENS permanently heated seal bar with exchangeable sealing ledge,...
Open the catalog to page 2
All CPS&S Inc. / Kallfass USA catalogs and technical brochures

Archived catalogs
Compare up to 10 products