Catalogs

>

Compact Shrinker - KC 5040 Universal, KC 8060 Universal
Catalog excerpts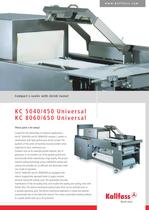 w w w. k a l l f a s s. c o m Compact L-sealer with shrink tunnel KC 5040/450 Universal KC 8060/650 Universal These pack a lot away! Created for the demanding of industrial applications – the KC 5040/450 and KC 8060/650 compact L-sealers in combination with high performance shrink tunnels. The qualities of this series of machines become evident when subjected to hard, continuous use. Products such as for example printed material, sets of glassware, or oil canisters can all be packed quickly and economically whilst maintaining a high quality. The proven impulse sealing technology using a teflonised sealing and cutting wire provides for an effective and absolutely inodorous mode of operation. The KC 5040/450 and KC 8060/650 are equipped with electro-magnetically operated hooks to apply constant pressure during the sealing cycle. This guarantees accurate maintenance of the set sealing time, and trouble-free sealing and cutting, even with thicker films. The electro-mechanical sealing frame drive can be switched over to a variable operating cycle. The electro-mechanical operation is closed and opened automatically due to the fixed time interval. That means automated working method to a grade extend with up to 20 cycles/min.
Open the catalog to page 1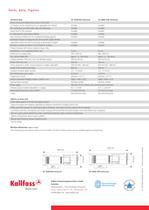 Facts, data, figures Technical data Electro-mechanical sealing frame closure at the touch of a button; can be switched over to an adjustable time interval Film perforating unit with needle roller and safety plate: Motor drive for film transport: Air table plate for easy product feeding: Basic heating of sealing wire for increased packaging capacity: Automatic transport conveyor into the shrink tunnel, height infinitely adjustable to place the seal line halfway up the product's height Machine on castors (of which 2 can be fixed) for mobility: Product transport with silicone coated conveyor...
Open the catalog to page 2
All CPS&S Inc. / Kallfass USA catalogs and technical brochures

Archived catalogs
Compare up to 10 products