Catalogs

>

New Steel Mesh Barrier Stair
Catalog excerpts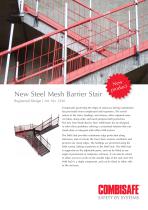 New Steel Mesh Barrier Stair Registered Design | Art. No. 3226 Temporarily protecting the edges of stairways during construction has previously been complicated and expensive. The varied nature of the stairs, landings, and returns, often required many cut tubes, sharp ends, and much purpose built protection. The new Steel Mesh Barrier Stair (SMB Stair) has be designed to solve these problems, offering a systemised solution that can stand alone or integrate with either SMB system. The SMB Stair provides continuous edge protection along staircases, and at returns the Gap Closer ensures continuity and protects any sharp edges. The landings are protected using the SMB system, linking seamlessly to the SMB Stair. The SMB Stair is supported on the adjustable posts, and can be fitted to any angle of permanent or temporary stairway. It can also be raised to allow access to work on the outside edge of the stair unit. The SMB Stair is a single component, and can be fitted to either side of the staircase.
Open the catalog to page 1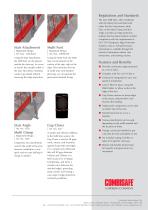 Stair Attachment Multi Foot Using the Stair Attachment, the SMB Stair can be placed outside the staircase, so as not to restrict the useable width of the stair. This allows finishing works to go ahead without removing the edge protection. Using the Multi Foot, the SMB Stair can be placed on the surface of the step, right at the edge. This minimises the loss of width and, with detailed planning, can incorporate the permanent handrail fixings. The new SMB Stair, when combined with the Safety Post and fitted with either the Stair Attachment, Multi Foot, or the Multi Clamp and Stair Angle,...
Open the catalog to page 2
All Combisafe International catalogs and technical brochures

Archived catalogs
Compare up to 10 products