Catalogs

>

GX Safety Line - 316L Stainless Steel Safety Couplings
Catalog excerpts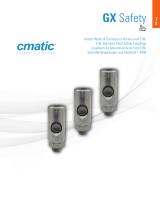 Innesti Rapidi di Sicurezza in Acciaio Inox 316L 316L Stainless Steel Safety Couplings Coupleurs de Sécurité en Acier Inox 316L Sicherheitskupplungen aus Edelstahl 1.4404
Open the catalog to page 1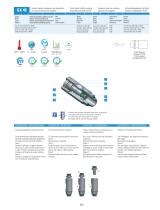 Innesto rapido a pulsante con dispositivo di sicurezza per profilo europeo 2 3 Corpo Body Corps Körper Innesti Plugs Embouts Stecker Acciaio Inox AISI 420 Stainless Steel AISI 420 Acier Inox AISI 420 Edelstahl AISI 420 Acciaio Inox AISI 316L (1.4404) Stainless AISI GU26-15 Steel 316L 316L (1.4404) Acier Inox AISI (1.4404) Edelstahl AISI 316L (1.4404) BID Profilo Europeo European Profile Profil européen Europäisches Profil Guarnizioni Seals Joint d'étanchéité Dichtung Sfere Balls Billes Kugel Sicherheitskupplung mit Knopf Gemäss Europäisches Profil Acciaio Inox AISI 302 Stainless Steel AISI 302...
Open the catalog to page 2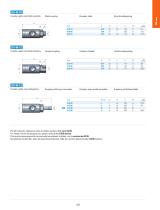 Innesto rapido con filetto maschio Male coupling Coupleur mâle GX 46-12 Innesto rapido con filetto femmina Female coupling Coupleur femelle GX 46-13 Innesto rapido con portagomma Coupling with hose connection Coupleur avec douille cannelée Per gli Innesti da utilizzare si veda la relativa sezione della serie GX10. For further info on the plugs to use, please revert to the GX10 section. Pour autres renseignements concernants les embouts à utiliser, voir la section des GX10. Bei weiteren Auskünften über die einsetzbaren Stecker, bitte sich auf den Abschnitt über GX10 beziehen.
Open the catalog to page 3
All C.Matic S.p.A. catalogs and technical brochures

Archived catalogs
Compare up to 10 products