Catalogs

>

HOSES
Catalog excerpts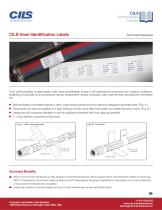 CILS Hose Identification Labels Technical datasheet CILS self-laminating durable labels make hose identification simple in all industrial environments and weather conditions, protecting crucial data such as pressure ratings, temperature ranges, barcodes, date, hose life and manufacturer information etc. Self-laminating hose labels feature a clear, wrap-around protective tail to seal and safeguard all printed data. (Fig. A.) Hose labels can also be supplied in a flag format to provide more label information for smaller diameter hoses. (Fig. B.) Labels are fully computer printable or can be supplied pre-printed with your data as specified. 1 - 2 day delivery, anywhere in the world. Fig. B. - Flag label Fig. A. - Self Laminating label Clear Self-laminating tail Your data, logo or info here Your data, logo or info here Printable area Adhesive side Summary Benefits Ideal to meet industry standards e.g. SAE (Society of Automotive Engineers), EN (European Norm), DIN (Deutsche Institute fur Normung), MDG 41 (Guideline for Fluid Power Safety at Mines) and ISO (International Standards Organisation). Hose labels can be color-coded and/ or barcoded for immediate hose recognition. Labels are printable in seconds straight from your PC and standard laser or thermal transfer printer. Computer Imprintable Label Systems 1500 District Avenue, Burlington, MA 01803, USA
Open the catalog to page 1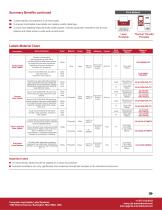 Summary Benefits continued Print Method Conformability and adhesion to all hose types. Computer Imprintable hose labels can replace costly metal tags. Correct hose labeling helps eliminate costly repairs, reduces production downtime due to hose failures and helps ensure a safe work environment. Laser Printable Thermal Transfer Printable Labels Material Chart. Print method Print toner/ Ribbon Material Code General features Conformable Hose Labels Durable, conformable, self-extinguishing label with a self-laminating tail that wraps around to protect the print and provide the highest level of...
Open the catalog to page 2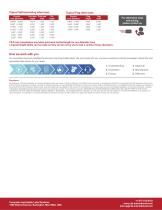 Typical Self-laminating label sizes Print area Print area height width Typical Flag label sizes Tail Length Popular hose diameters Flag height Flag width For alternative sizes and pricing, please contact us. CILS can manufacture any label, print area and tail length for any diameter hose. Long tail length labels can be made so they can be cut by you to suit a variety of hose diameters. How we work with you Our consultative approach simplifies the process of sourcing durable labels. We work closely with you, and use our extensive industry knowledge to deliver the most appropriate label...
Open the catalog to page 3
All CILS International catalogs and technical brochures

Compare up to 10 products