Catalogs

>

CHINETTI

>

WAX MATIC AUTOMATIC INJECTOR - INJECTEURS DE CIRE AUTOMATIQUE WAX
Catalog excerpts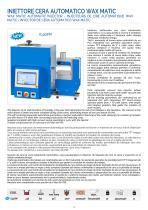 INIETTORE CERA AUTOMATICO WAX MATIC WAX MATIC AUTOMATIC INJECTOR - INJECTEURS DE CIRE AUTOMATIQUE WAX MATIC - INYECTOR DE CERA AUTOMATICO WAX MATIC Iniettore sottovuoto per cera totalmente automatico, la cui peculiarità è l'avere il serbatoio della cera sottovuoto e l'iniezione nello stampo effettuata mediante siringa. Tutti i parametri di lavoro sono controllati da un PLC industriale con pannello operatore touchscreen TFT integrato da 7" a 216K colori, dalla grafica semplice e intuitiva che guida nella creazione delle ricette di lavoro. L'assenza di aria e quindi di umidità nel serbatoio cera elimina il rischio di avere bolle d'aria nelle iniezioni. Il vuoto nello stampo permette un migliore e più completo riempimento dello stesso, eliminando scarti di cera e sprechi di tempo. La morsa pneumatica autocentrante garantisce un bloccaggio dello stampo perfetto e uniforme, consentendo di realizzare cere complesse e sottili in tempi brevi, così da aumentare la produttività e ridurre i costi. Fornito completo di pompa ad alto vuoto funzionante in ciclo con l'iniettore. Necessita di aria compressa alla pressione di 6 Bar (87 PSI). Fully automatic vacuum wax injector, whose peculiarity is to have a wax tank under vacuum and injection into the mold by syringe. All the working parameters are controlled by an industrial PLC with integrated TFT touch-screen operator panel from 7 "to 216K colors, with simple and intuitive graphics that guide the creation of work recipes. The absence of air and therefore of humidity in the wax tank eliminates the risk of air bubbles in the injections. The vacuum in the mold allows a better and more complete filling of the same, eliminating waste of wax and waste of time. The self-centering pneumatic autoclamp guarantees a perfect and uniform blocking of the mold, allowing the creation of complex and thin waxes in a short time, increasing productivity and reducing costs. Supplied complete with high vacuum pump operating in cycle with the injector. It needs compressed air at a pressure of 6 Bar (87 PSI). Injecteur sous vide pour cire entièrement automatique, dont la particularité est d'avoir un réservoir de cire sous vide et d'injection dans le moule à l'aide d'une seringue. Tous les paramètres de travail sont contrôlés par un automate industriel avec panneau de commande à écran tactile TFT intégré de 7 "à 216K couleurs, avec des graphiques simples et intuitifs qui guident la création de recettes de travail. L'absence d'air et donc d'humidité dans le bac à cire élimine le risque d'avoir des bulles d'air dans les injections. Le vide dans le moule permet un remplissage meilleur et plus complet de celui-ci, éliminant le gaspillage de cire et la perte de temps. L'étau pneumatique auto-centrant garantit un verrouillage parfait et uniforme du moule, permettant de fabriquer des cires complexes et minces en peu de temps, augmentant ainsi la productivité et réduisant les coûts. Livré complet avec pompe à vide poussé fonctionnant en cycle avec l'injecteur. Il a besoin d'air comprimé à une pression de 6 Bar (87 PSI). Inyector de cera al vacío totalmente automático, cuya peculiaridad es disponer de depósito de cera al vacío e inyección en el molde mediante jeringa. Todos los parámetros de trabajo son controlados por un PLC industrial con panel de operador de pantalla táctil TFT integrado de 7 "a 216K colores, con gráficos simples e intuitivos que guían la creación de recetas de trabajo. La ausencia de aire y por tanto de humedad en el depósito de cera elimina el riesgo de tener burbujas de aire en las inyecciones. El vacío en el molde permite un mejor y más completo llenado del mismo, eliminando el desperdicio de cera y la pérdida de tiempo. La ausencia de aire y por tanto de humedad en el depósito de cera elimina el riesgo de tener burbujas de aire en las inyecciones. El vacío en el molde permite un mejor y más completo llenado del mismo, eliminando el desperdicio de cera y la pérdida de tiempo. El clamp neumático autocentrante garantiza un perfecto y uniforme bloqueo del molde, permitiendo realizar ceras complejas y finas en poco tiempo, aumentando así la productividad y reduciendo costes. Se suministra completo con bomba de alto vacío funcionando en ciclo con el inyector. Necesita aire comprimido a una presión de 6 Bar (87 PSI).
Open the catalog to page 1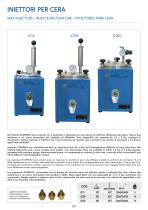 INIETTORI PER CERA WAX INJECTORS – INJECTEURS POUR CIRE – INYECTORES PARA CERA Gli iniettori STARWAX sono costruiti con il serbatoio in alluminio per una veloce ed uniforme diffusione del calore. Hanno due resistenze e un nuovo termostato più sensibile ed affidabile. Sono disponibili con capacità da 1,5 o 3 Kg, completi di manometro, pompa manuale o riduttore per l'aria compressa (in questo caso è prevista una valvola di sicurezza) e tre diversi ugelli intercambiabili. Injectors STARWAX are manufactured with an aluminium tank for a fast and homogeneous diffusion of heat; they have two...
Open the catalog to page 2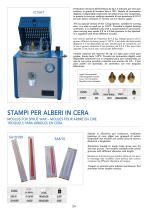 Particolare versione dell'iniettore da kg 1,5 indicato per cere per scultura, in grado di fondere fino a 145°. Dotato di termostato digitale, è disponibile solamente con attacco per aria compressa, in quanto la cera per scultura necessita di una pressione di 2,5-3 bar per essere iniettata. E' fornito con tre diversi ugelli. This is a special version of the 1,5 kg injector, suitable for carving wax, it is able to melt up to 145°C. Provided a digital heating controller, it is available only with a compressed-air connection, since carving wax needs 2.5 to 3.0 bar pressure to be injected. It is...
Open the catalog to page 3
All CHINETTI catalogs and technical brochures
Compare up to 10 products