Catalogs

>

Jiwei Flap-11 Magnetic Level Indicator Passed SIL2 / SIL3 Functional Safety Assessment
Catalog excerpts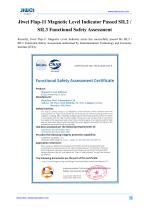 JIUIGI -itfiBUJlti — Recently, Jiwei Flap-11 Magnetic Level Indicator series has successfully passed the SIL2 / SIL3 Functional Safety Assessment authorized by Instrumentation Technology and Economy Institute (ITEI). Functional Safety Assessment Certificate Product: Magnetic Level Indicator Product model: Flap-11 series. Manufacturer: Shenzhen Jiwei Automations Ltd. Address: 5th Floor, Baoli Building, No. 3162, Longgang Avenue, Shenzhen, P.R.China. Safety function: The Flap-11 series product is a Magnetic Level Indicator, which realizes real-time measurement of liquid level based on the principle of communicating vessels and magnetic coupling. After installing, configuring and commissioning the product correctly in accordance with the Flap-11 series safety manual and user manual, Flap-11 can detect the height of the liquid level and convert into a 4-20mA signal, it can also be used for high and low liquid level alarms and converted into switch signals, and output the signal to the subsequent equipment (such as controller). Had been assessed per the following requirements of: G BFT204J8.1-2017(1 EC61S08-1:2010) GB/T20438.2-2017(1 EC61508-2:2010) Provides the following integrity protection capability: Systematic Capability: SC3 Hardware safety integrity: Type a. Applies to SIL2 (HFT>0), S1L3(HFT>1) Application restriction: When using in a Safety Instrumented Function(SIF), should be installed and used according to the requirements of the "Flap-11 Safety Manual". It should be confirmed that this product meets the requirements of architecturai constraints and quantified random failures in theSIF, and refer to the "Flap -11 Safety Manual" to verify the relevant parameters. The following documents are the part of this certificate: - Flap-11 Series Magnetic Fap Level Gauge Functional Safety Assessment Report V1.0 Instrumentation Safety and security Issued Date: 2021-06-29 Expire Date: 2026-06-29
Open the catalog to page 1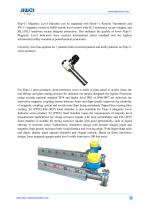 Flap-11 Magnetic Level Indicator can be equipped with Reed-11 Remote Transmitter and SW-11 magnetic switch to fulfill remote level control with SC3 systematic secure integrity and SIL2/SIL3 hardware secure integrity protection. This indicates the quality of Jiwei Flap-11 Magnetic Level Indicators have reached international safety standard and the highest instrumental safety standard in petrochemical production. Currently, Jiwei has applied for 7 patents (both invention patents and utility patents) on Flap-11 series products. For Flap-11 series products, front protective cover is made of...
Open the catalog to page 2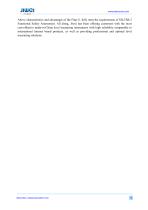 jiwei — — Above characteristics and advantages of the Flap-11 fully meet the requirements of SIL2/SIL3 Functional Safety Assessment. All along, Jiwei has been offering customers with the most cost-effective made-in-China level measuring instruments with high reliability comparable to international famous brand products, as well as providing professional and optimal level measuring solutions.
Open the catalog to page 3
All China Shenzhen Jiwei Automations Ltd. catalogs and technical brochures

Compare up to 10 products