Catalogs

>

SHOE SOLE CLEANER
Catalog excerpts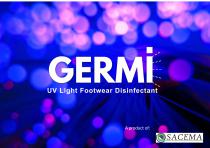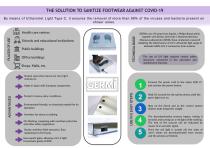 THE SOLUTION TO SANITIZE FOOTWEAR AGAINST COVID-19 By means of Ultraviolet Light Type C, it ensures the removal of more than 99% of the viruses and bacteria present on shoes' soles. Schools and educational institutions Public buildings Office buildings TECHNICAL BASIS Health care centres GERMI uses UV lamps from Signify, a Philips Brand which, together with Boston University's National Infectious Diseases Laboratories (NEIDL) have conducted a research validating the effectiveness of UV-C ultraviolet light usage to eliminate SARS-CoV-2 coronavirus from surfaces. The use of UV light requires...
Open the catalog to page 2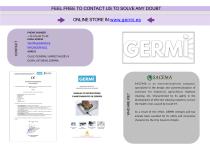 FEEL FREE TO CONTACT US TO SOLVE ANY DOUBT ONLINE STORE IN: www.germi.es PHONE NUMBER CALLE GENERAL SUÁREZ VALDÉS 8 GIJÓN, ASTURIAS, ESPAÑA S AC E M A i s a n i n t e r n a t i o n a l i z e d c o m p a n y, specialized in the design and commercialization of solutions for industrial, agricultural, highway EMAIL ADRESS cleaning, etc. Characterized by its agility in the development of effective cleaning solutions, to face the health crisis caused by Covid-19. As a result of this effort, GERMI emerges and has already been awarded for its utility and innovative character by the City Council of...
Open the catalog to page 3
All CEPILLOS SACEMA catalogs and technical brochures

Compare up to 10 products