Catalogs

>

TT60SM
Catalog excerpts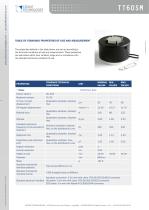 copyright © cedrat technologies i 02/2019 www.cedrat-technologies.com | actuator@cedrat-tec.com CEDRAT ( 7 TECHNOLOGIES X \ Innovation in Mechatronics TABLE OF STANDARD PROPERTIES OF USE AND MEASUREMENT The properties defined in the table below, are set up according to the technical conditions of use and measurement. These properties are warranted within their variation range and in compliance with the standard technical conditions of use. STANDARD TECHNICAL CONDITIONS VALUES VALUES VALUES > Notes Preliminary data CEDRAT TECHNOLOGIES • 59 Chemin du Vieux Chene • Inovallee • 38246 MEYLAN Cedex France • Tel. : +33 (0)4 56 58 04 00
Open the catalog to page 1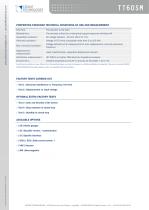 copyright © cedrat technologies i 02/2019 www.cedrat-technologies.com | actuator@cedrat-tec.com CEDRAT ( 7 TECHNOLOGIES X \ Innovation in Mechatronics Any technical conditions of use, different from those defined above, can lead to temporary or definitive alterations of properties. Thank you to contact CEDRAT TECHNOLOGIES before using actuators under non standard technical conditions. FACTORY TESTS CARRIED OUT > Test 1 : Electrical admittance vs. Frequency, free-free > Test 2 : Displacement vs. input voltage OPTIONAL EXTRA FACTORY TESTS > Test 3 : Gain and linearity of the sensor > Test 4 :...
Open the catalog to page 2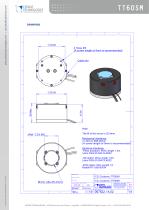 4 Holes M3 (A screw length of 5mm is recommended) Cable exit Mechanical interfaces: 4 x M3 on Ø48.00mm (A screw length of 5mm is recommended) Electrical Interfaces: -Piezo actuators: Wire Length 1.5m. Lémo FGG.00.303.CLAD22 -SG option: Wire Length 1.5m. Lémo FGG.00.304.CLAD22 -ECS option: Wire Length 1m Radiall R113081000W Titre Copyright © CEDRAT TECHNOLOGIES | 02/2019 Matiere / Material Traitement / Treatment Finition / Finish Tolerances generales / General Tolerances Longueur / Length CONFIDENTIEL INDUSTRIE Ce document est la propriété de CEDRAT TECHNOLOGIES. Ne peut être communiqué sans...
Open the catalog to page 3
All CEDRAT TECHNOLOGIES catalogs and technical brochures

Compare up to 10 products