Catalogs

>

MISAC PROJECT
Catalog excerpts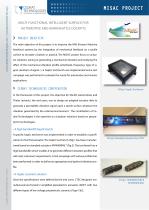 MISAC PROJECT MULTI-FUNCTIONAL INTELLIGENT SURFACE FOR AUTOMOTIVE AND AERONAUTICS COCKPITS PROJECT OBJECTIVE The main objective of this project is to improve the HMI (Human Machine Interface) systems by the integration of mechanical feedback on a tactile surface to simulate a button or joystick. The MISAC project focus on actuator solutions aiming at generating a mechanical vibration and studying the effect of the mechanical vibration profile (amplitude, frequency, type of signal, duration of signal...). A haptic test bench was implemented and a test campaign was performed to evaluate the needs for automotive and avionic applications. CEDRAT TECHNOLOGIES CONTRIBUTION ■■ Fig1: Haptic Test Bench In the framework of this project, the objective for VALEO (automotive) and Thales (avionic), the end users, was to design an adapted actuator able to generate a perceptible vibration signal upon a tactile surface whatever the vibration generated by the external environment. The contribution of Cedrat Technologies is the expertise on actuation solutions based on piezoelectric technologies. • A high bandwidth haptic bench A specific haptic test bench was implemented in order to establish a specification for the final actuator. The haptic test bench (Fig1) has been manufac- ■■ Fig2: Standard actuator from CTEC tured based on standard actuators APA400MML® (Fig 2). The test bench has a high bandwidth which enables it to generate different vibration profiles that will meet customers' requirements. A test campaign with various profiles has been performed in order to define an appropriate and optimal vibration proCopyright © CEDRAT TECHNOLOGIES | MISAC_V1 - 03/2015 • A haptic resonant solution Once the specifications were defined by the end users, CTEC designed, manufactured and tested 2 amplified piezoelectric actuators (APA®) with two different types of low voltage piezoelectric ceramics (Type 1&2).
Open the catalog to page 1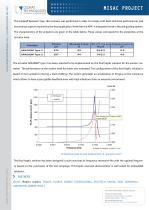 copyright © cedrat technologies | misac_vi - 03/2015 www.cedrat-technologies.com | actuator@cedrat-tec.com MISAC PROJECT This tradeoff between Type 1&2 ceramics was performed in order to comply with both technical performances and economical aspects required by the final application. Note that the APA® is integrated inside a flexural guiding system. The characteristics of the actuators are given in the table below. These values correspond to the properties at the actuator level. The actuator APA400M® type1 has been selected to be implemented on the final haptic solution for the avionic...
Open the catalog to page 2
All CEDRAT TECHNOLOGIES catalogs and technical brochures

Compare up to 10 products