Catalogs

>

MC-SUITE Project
Catalog excerpts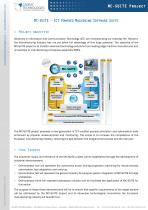 MC-SUITE Project MC-SUITE - ICT Powered Machining Software Suite >> Project Advances in Information and Communication Technology (ICT) are revolutionizing our everyday life. However, the manufacturing industry has not yet taken full advantage of this huge potential. The objective of the MC-SUITE project is to transfer advanced technology solutions from leading edge machine manufactures and universities to manufacturing companies especially SMEs. The MC-SUITE project proposes a new generation of ICT enabled process simulation and optimisation tools enhanced by physical measurements and monitoring. The scope is to increase the competence of the European manufacturing industry, reducing the gap between the programmed process and the real part. Copyright © CEDRAT TECHNOLOGIES | 06-2017 The industrial impact and relevance of the MC-SUITE project will be established through the development of industrial demonstrators: • Demonstrator one will represent the automotive sector aiming at gearbox machining for robust process optimisation, fast adaptation and ramp-up. • Demonstrator two will represent the general industry focusing on system integration of MC-SUITE for large workpieces. • Demonstrator three will represent aerospace industry and will facilitate the application of MC-SUITE for this sector. The purpose of these three demonstrators will be to ensure that specific requirements of the target sectors will be addressed by the MC-SUITE project and to showcase technological innovations the European manufacturing industry will benefit from. CEDRAT TECHNOLOGIES • 59 Chemin du Vieux Chêne • Inovallée • 38246 MEYLAN Cedex France
Open the catalog to page 1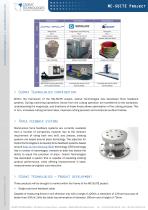 MC-SUITE Project Technologies contribution Within the framework of the MC-SUITE project, Cedrat Technologies has developed force feedback systems. During machining operations, forces from the cutting operation are transferred to the workpiece, understanding the magnitude, and directions of these forces allows optimisation of the cutting process. This in turn, increases cutting removal rates, improves cutting precision and enhances surface finishes. feedback systems Copyright © CEDRAT TECHNOLOGIES | 06-2017 Stand-alone force feedback systems are currently available from a number of...
Open the catalog to page 2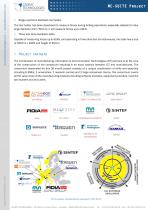 www.cedrat-technologies.com | actuator@cedrat-tec.com Copyright © CEDRAT TECHNOLOGIES | 06-2017 MC-SUITE Project • Single axis force feedback tool holder The tool holder has been developed to measure forces during drilling operations, especially adapted to take large diameter drill (˃50mm), it will measure forces up to 20kN. • Three axis force feedback table Capable of measuring forces up to 60kN, and operating in three direction simultaneously, the table has a size of 260mm x 2600 and height of 95mm. The combination of manufacturing, Information & Communication Technologies (ICT) partners...
Open the catalog to page 3
All CEDRAT TECHNOLOGIES catalogs and technical brochures

Compare up to 10 products