Catalogs

>

CATU

>

CATU Earthing solutions - industrial motors
Catalog excerpts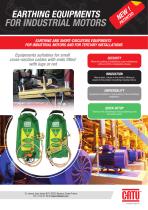 EARTHING EQUIPMENTS EARTHING AND SHORT-CIRCUITING EQUIPMENTS FOR INDUSTRIAL MOTORS AND FOR TERTIARY INSTALLATIONS Equipments suitables for small cross-section cables with ends fitted with lugs or not Allows the earthing of installations under maintenance, at the end of the consignation process. New product, unique on the market, offering an answer to the problem of earthing industrial motors. Equipments suitables for most existing motors and tertiary installations. QUICK SETUP Thanks to the simultaneous manual tightening of all connection points.
Open the catalog to page 1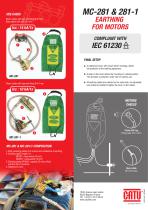 Motor cables with lugs and fixing Ø ≥ 8 mm. Bare cables with maxi Ø 9 mm. COMPLIANT WITH FINAL SETUP A waterproof cover, with visual "earth" markings, allows the protection of the earthing equipment. A strap on the cover allows the mounting on vertical position. This provides a protection under rain for outdoor use. MC-281 Motor cables with lugs and fixing Ø ≥ 4 mm. All earthing cables are oriented on the same side. An adjustable loop makes it possible to tighten the cover on the cables. MOTORS CABLES Cable with lug Fixing hole Ø ≥ 4 mm MC-281 & MC-281/1 COMPOSITION 1- Body receiving cables...
Open the catalog to page 2
All CATU catalogs and technical brochures

Compare up to 10 products