Catalogs

>

Electric Rope Shovels 7495
Catalog excerpts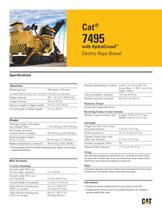 Cat® 7495 with HydraCrowd™ Electric Rope Shovel Specifications Dimensions Dipper payload 100 tonnes (110 tons) (Available dipper payloads up to 109 tonnes (120 tons) when specified) Dipper capacity Length of boom Effective length of dipper handle Overall length of dipper handle Weights Working weight, with dipper and standard links Net weight, domestic, without ballast or dipper General-purpose dipper 56 m3 (73 yd3) Ballast (furnished by customer) 30.6 - 61.2 m3 (40-80 yd3) 20.4 m (67 ft) 10.9 m (35 ft 10 in) 14.3 m (47 ft) 1 382 400 kg (3,047,670 lbs) 999 182 kg (2,202,820 lbs) 80 603 kg (177,700 lbs) 302 614 kg (667,150 lbs) • These weights will vary slightly depending upon dipper and optional equipment selection Lower: 16, 78 cm (30.7 in) Lower Rear: 2, 106.7 cm (42 in) Upper: Slides 162 cm (63.8 in) 94, 50.8 cm (20 in) Planetary Propel • Dual-motor independent drive Revolving Frame (Center Section) Welded, impact-resistant steel Length: 8.38 m (27 ft 6 in) Width: 3.68 m (12 ft 1 in) Turntable Forged rim alloy steel swing rack pitch diameter Teeth external cut Tapered, forged alloy steel roller rails diameter Number of tapered rollers Tapered rollers diameter 5.26 m (17 ft 3 in) 24.13 cm face (9.5 in) 4.72 m (15 ft 6 in) 50 27.31 cm (10.75 in) Swing Two planetary gearboxes, each driven by a vertically mounted motor, are mounted on either side of the revolving frame. Dual-output pinion shafts from each gearbox engage the swing rack Main Structures Crawler Mounting Overall width 200.7 cm (79 in) treads, standard Overall width 259.1 cm (102 in) treads Overall length of mounting Total effective bearing area (200.7 cm treads) Total effective bearing area (259.1 cm treads) Number and diameter of rollers Take-up tumblers diameter Number and pitch of treads Hoist 11 m (36 ft) 13.5 m (44 ft 3 in) 11.43 m (37 ft 6 in) 36.1 m2 (388.6 ft2) 374 kpa (54.2 Psi.) 46.6 m2 (501.7 ft2) 289 kpa (50 Psi.) A planetary gearbox with dual-output pinions provides the hoist torque transfer from the electric motor to the hoist drum gear Lube System • Single-line system applies lubricant and grease via the PLC • 6 pumps (4 for lubricant and 2 for grease) located in an insulated, double-walled lube room
Open the catalog to page 1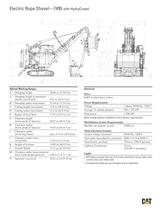 Electric Rope Shovel—7495 with HydraCrowd Optimal Working Ranges A1 Dumping height at maximum electric crowd limit 8.61 m (28 ft 3 in) B Dumping radius (maximum) 21.64 m (71 ft 0 in) C Cutting height (maximum) 17.8 m (58 ft 5 in) D Cutting radius (maximum) 25.2 m (82 ft 8 in) E Radius of level floor 17.47 m (57 ft 4 in) (boom point of sheaves) 20.87 m (68 ft 6 in) (boom point of sheaves) 19.65 m (64 ft 5 in) J Clearance under frame M Clearance under lowest point in truck frame/propel gearcase 0.90 m (2 f111.5 in) IGBT Acutrol drive system Power Requirements_ Other voltage options available...
Open the catalog to page 2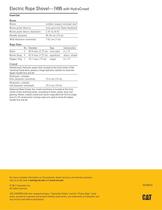 Electric Rope Shovel—7495 with HydraCrowd Front End Boom Boom Boom point sheaves Boom point sheave diameters Handle diameter Wall thickness (nominal) welded, impact-resistant steel twin-grooved, flame-hardened 2.43 m (8 ft) 86.36 cm (34 in) 7.62 cm (3 in) Rope Data No Diameter Hoist 2 Boom Susp. 4 Dipper Trip 1 Type 69.8 mm (2.75 in) twin dual 82.6 mm (3.25 in) equalized 19.1 mm (.75 in) single Construction 6 x 37 struct. strand 6 x 37 Crowd HydraCrowd, hydraulic power skid, located at the front center of the revolving frame deck, powers a large hydraulic cylinder to move the dipper handle...
Open the catalog to page 3
All Caterpillar Global Mining catalogs and technical brochures

Archived catalogs
Compare up to 10 products