Catalogs

>

Electric Rope Shovels 7495 HF
Catalog excerpts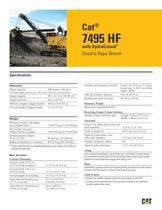 with HydraCrowd™ Electric Rope Shovel Dipper payload 100 tonnes (110 tons) (Available dipper payloads up to 109 tonnes (120 tons) when specified) Effective length of dipper handle 10.9 m (35 ft 10 in) Overall length of dipper handle 14.3 m (47 ft) Working weight, with dipper, without ballast or dipper 1 059 056 kg (2,334,820 lbs) General-purpose dipper Ballast (furnished by customer) 302 614 kg (667,150 lbs) • These weights will vary slightly depending upon dipper and optional equipment selection Main Structures Crawler Mounting_ Overall length of mounting 11.43 m (37 ft 6 in) Total effective bearing area 57.1 m2 (615 ft2) Total effective bearing area 64 m2 (689 ft2) Number and diameter of rollers Lower: 16,79.4 cm (31.25 in) Upper: Slides Take-up tumblers diameter 162 cm (63.8 in) Number and pitch of treads 94, 50 cm (20 in) Planetary Propel_ Dual-motor independent drive Revolving Frame (Center Section)_ Welded, impact-resistant steel Length: 8.38 m (27 ft 6 in) Forged rim, alloy steel swing rack Teeth external cut 24.13 cm face (9.5 in) Tapered, forged alloy steel roller rails diameter 4.52 m (14 ft 10 in) Number of tapered rollers 50 Tapered rollers diameter 27.31 cm (10.75 in) Two planetary gearboxes, each driven by a vertically mounted motor, are mounted on either side of the revolving frame. Dual-output pinion shafts from each gearbox engage the swing rack A planetary gearbox with dual-output pinions provides the hoist torque transfer from the electric motor to the hoist drum gear. Lube System_ • Single-line system applies lubricant and grease via the PLC • 6 pumps (4 for lubricant and 2 for grease) located in an insultaed, double-walled lube room
Open the catalog to page 1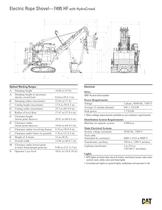 Electric Rope Shovel—7495 HF with HydraCrowd Optimal Working Ranges A Dumping height A1 Dumping height at maximum electric crowd limit B Dumping radius (maximum) C Cutting height (maximum) D Cutting radius (maximum) E Radius of level floor G Clearance height (boom point sheaves) H Clearance radius (boom point sheaves) I Clearance radius (revolving frame) J Clearance under frame (to ground) K Height of A-frame L Overall width M Clearance under lowest point in truck frame/propel gearcase N Operator's eye level 10.06 m (33 ft) Electrical Drive 8.61m (28 ft 3 in) 21.64 m (71 ft) 17.8 m (58 ft 5...
Open the catalog to page 2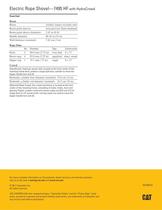 Electric Rope Shovel—7495 HF with HydraCrowd Front End Boom Boom Boom point sheaves Boom point sheave diameters Handle diameter Wall thickness (nominal) welded, impact-resistant steel twin-grooved, flame-hardened 2.43 m (8 ft) 86.36 m (34 in) 7.62 cm (3 in) Rope Data No. Diameter Hoist 2 Boom susp. 4 Dipper trip 1 Type Construction 69.8 mm (2.75 in) twin dual 6 x 37 82.6 mm (3.25 in) equalized struct. strand 19.1 mm (.75 in) single 6 x 37 Crowd HydraCrowd, hydraulic power skid, located at the front center of the revolving frame deck, powers a large hydraulic cylinder to move the dipper...
Open the catalog to page 3
All Caterpillar Global Mining catalogs and technical brochures

Archived catalogs
Compare up to 10 products