Catalogs

>

H2O Equipment Guide
Catalog excerpts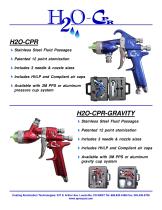 H2O-CPR Stainless Steel Fluid Passages Patented 12 point atomization Includes 3 needle & nozzle sizes Includes HVLP and Compliant air caps Available with 3M PPS or aluminum pressure cup system H2O-CPR-GRAVITY Stainless Steel Fluid Passages Patented 12 point atomization Includes 3 needle & nozzle sizes Includes HVLP and Compliant air caps Available with 3M PPS or aluminum gravity cup system Coating Atomization Technologies: 337 S. Arthur Ave. Louisville, CO 80027 Tel: 888.820.4498 Fax: 303.438.5708 www.spraycat.com
Open the catalog to page 2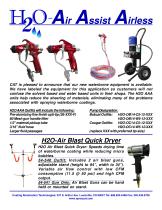 CAT is pleased to announce that our new waterborne equipment is available. We have labeled the equipment for this application so customers will not confuse the solvent based and water based units in their shops. The H2O AAA units help reduce the sheering of materials, eliminating many of the problems associated with spraying waterborne coatings. H2O AAA Outfits will include the following: Pre-atomizing fine finish opti-tip (36-XXX-F) 60 Mesh gun handle filter 1/2" material pickup tube 3/16" fluid hose Larger fluid passages Pump Designation: Bobcat Outfits: H2O-OB14-C5-12-XXX...
Open the catalog to page 3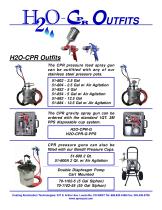 H2O-CPR Outfits The CPR pressure feed spray gun can be outfitted with any of our stainless steel pressure pots. 51-802 51-804 51-852 51-854 51-882 51-884 2.5 Gal 2.5 Gal w/ Air Agitation 5 Gal 5 Gal w/ Air Agitation 12.5 Gal 12.5 Gal w/ Air Agitation The CPR gravity spray gun can be ordered with the standard 1QT. 3M PPS disposable cup system. H2O-CPR-G H2O-CPR-G-PPS CPR pressure guns can also be fitted with our Bandit Pressure Cups. 51-600 2 Qt. 51-600A 2 Qt. w/ Air Agitation Double Diaphragm Pump Cart Mounted 70-1102-5 (5 Gal Siphon) 70-1102-55 (55 Gal Siphon) Coating Atomization...
Open the catalog to page 4
All C.A.Technologies catalogs and technical brochures

Archived catalogs

Compare up to 10 products