Catalogs

>

AutoCAT 100H
Catalog excerpts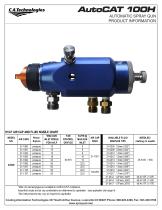 AutoCAT 100H AUTOMATIC SPRAY GUN PRODUCT INFORMATION HVLP AIR CAP AND FLUID NOZZLE CHARTMODEL NO. AIR CAPS Press / Siphon *MAX GUN INLET PRESS. FOR HVLP AIR CAP RING AVAILABLE FLUID NOZZLES TIPS NEEDLES/ marking on needle A100H 21-1090 *Note: Air cap test gages are available to confirm HVLP compliance. Actual fluid nozzle and air cap combinations are determined by application (see application chart page 4) *Gun inlet pressures may vary as required by application Coating Atomization Technologies 337 South Arthur Avenue, Louisville CO 80027 Phone: 888.820.4498, Fax: 303.438.5708 _www.spraycat.com_
Open the catalog to page 1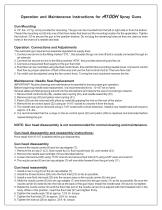 Operation and Maintenance Instructions for Spray Guns Gun Mounting A 1/2" dia. x 5" lg. rod is provided for mounting. The gun can be mounted from the left or right side or from the bottom. Thread the mounting rod (9) into one of the three holes that best suit the mounting location for the application. Tighten the locknut (10) to secure the gun in the position desired. Do not plug the remaining holes as they are used as drain holes in the event of a needle seal leak. Operation: Connections and Adjustments The automatic gun requires two separate regulated air supply lines. 1. Connect one air...
Open the catalog to page 2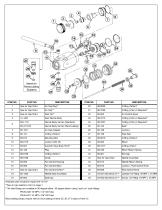 O-Ring (Teflon)* O-Ring (Viton) 2 Required* O-Ring (Viton) 2 Required* O-Ring (Viton) 2 Required* Fluid Inlet O-Ring (Teflon)* O-Ring (Viton)* Piston Return Spring Needle Assembly Needle Return Spring Locknut - Fluid Control Knob Fluid Control Knob indicates part included in repair kit # 10-107 **See air cap selection chart on page 1 ***Air inlet fittings are available in 90 degree elbow . 90 degree elbow tubing "push on" style fittings P/N 53-520 1/8 NPT x 1/4" OD Tube P/N 53-521 1/4 NPT x 3/8" OD Tube Recirculating setups require: Item 6 (recirculating) & items 25, 26, 27 in place of item...
Open the catalog to page 3
All C.A.Technologies catalogs and technical brochures

Archived catalogs

Compare up to 10 products