Catalogs

>

CS969
Catalog excerpts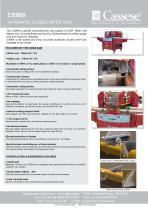 CS969 AUTOMATIC DOUBLE MITRE SAW The CS969 is usefully succeeding the very popular CS 939 : Wider and Higher cuts, Concrete Base and Cast Iron Cutting Heads for perfect quality cuts and maximum reliability. CS969 is the safest and most accurate automatic double mitre saw available in the market. FEATURES OF THE CS969 SAW • Wider cuts : 160mm (6" 1/3) • Higher cuts : 110mm (4» 1/3) •Available in 400V (± 5%) triple phase or 230V (± 5%) triple or single phase • Horizontal cutting stroke Improves quality of cutting even on very delicate mouldings. • 4 pneumatic clamps 2 horizontal & 2 vertical built-in adjustable clamps. Firmly secure difficult mouldings in order to avoid them from moving or rocking during the cutting operation. • Automatic cutting stroke Two-button operation for a safe and automatic forward & return moving of the blades. • 45° measuring scale Allows a direct, speed and accurate measuring • No wastage Because the blades cut alternately, the waste is effectively nil, which will save a lot of meters of mouldings, and hence money, over the life of the saw. • Internal cutting support block This supports the offcut and prevents chipping on the back edge of the chop. • 1.5m support arms Robust feed-in support arm, and feed-out measuring arm. • No blocked chutes Because offcuts fall directly into the open waste bin below the cut, there is no need for wastage chutes, which could be easily blocked by large offcuts. •Ducted extraction at blades This dramatically reduces dust by extracting it at the source : the blades. •Synchronized «switching-on» of dust extractor The dust extractor is pre-wired to the saw, so that both machines run and stop simultaneously. This reduces power consumption and excessive noise •CONSTRUCTION & ENGINEERING FEATURES Unique Cassese «Raised Blade Stroke» system • Solid build Weighing 720 kilos, the CS969 Saw is designed and engineered with a focus on durability, reliability and safety. • Small width (759mm – 30") Front and rear panels can be removed to pass through most doorsteps. • Cast concrete base Absorbs all vibrations and movements for absolutely perfect cuts. Other horizontal stroke systems Headquarters & Factory : Zone Industrielle - 77390 - Verneuil l'Etang - FRANCE Tel : +33 (0) 1.64.42.49.71/72/73/74 - Fax :+33 (0) 1.64.42.58.94 Web: www.cassese.com - e-Mail : Cassese.xp@cassese.com Cassese Communication 11/2007
Open the catalog to page 1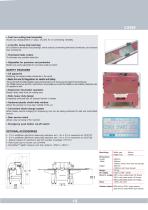 • Cast iron cutting head assembly Avoids any disadjustment or «play» of parts for an everlasting reliability. • Long life, heavy-duty bearings Air is ducted to the heavy-duty bearings, which reduces overheating with heavy workloads, and increase their working life. • Oversized blade collars To eliminate any possible blade flex. • Adjustable for precision and perfection Blades are easily adjustable for accurate angle and pitch. SAFETY FEATURES Satisfying the highest safety standards in the world. • Meets the new EU Regulation for Health and Safety The new EU health and safety regulation...
Open the catalog to page 2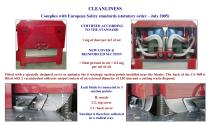 CLEANLINESS Complies with European Safety standards (statutory order – July 2005) CERTIFIED ACCORDING TO THE STANDARD 1 mg of dust per m3 of air NEW COVER & REINFORCED SUCTION = Dust present in air < 0.2 mg per m3 of air Fitted with a specially designed cover to optimise the 6 strategic suction points installed near the blades. The back of the CS 969 is fitted with 2 vacuum/dust collector output sockets of an external diameter of 120 mm and a cutting waste disposal. Each blade is connected to 3 suction points: B: nozzle C2: top cover C1: back cover Sawdust is therefore collected in a...
Open the catalog to page 3
All Cassese France catalogs and technical brochures

Compare up to 10 products