Catalogs

>

CAREL

>

Innovative HVAC controller
Catalog excerpts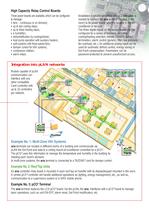 aria terminal (located in theroom) to its power board, which is located in the air- conditioner or fan-coil. The three digital inputs on the power boards can be configured for a series of functions, including: cooling/heating selection, remote ON/OFF, defrost termination, alarm control (generic, filter, low pressure, fan overload, etc.).An additional analog input can be used for automatic defrost control, energy saving or Set Point compensation.Parameters can be password-protected to prevent unauthorized access. Three power boards are available, which can be configuredto manage: ?fans...
Open the catalog to page 3
Operating temperature: -10C to 60аC (14F to 140аF) Power supply: from the relay/power board via single twisted pair cable Storage temperature: -20C to 70аC (-4F to 158аF) Maximum distance from the power board: 150m (500ft) Operating humidity: 20% to 80% r.H. Connection to pLAN network: via single twisted pair shielded cable Storage humidity: 0% to 80% r.H. Analog inputs: Mounting: panel standoffs ?1 (one) for Carel NTC temperature sensor:0˚C to 50˚C (32F to 122аF), resolution 0.5C (1аF), precision 1.5C (3аF)?1 (one) voltage humidity sensor, -0.5 to 1Vdc Index of protection: IP00 > Power...
Open the catalog to page 4
All CAREL catalogs and technical brochures

Archived catalogs

Compare up to 10 products