Catalogs

>

Building & Home Automation Flyer
Catalog excerpts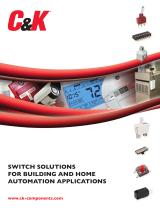 ENGINEERING TECHNOLOGY INTO SOLUTIONS Solutions to the challenges facing the Industrial market space require collaboration between customer and supplier. To provide Molding rheology simulation local engineer-to-engineer communication and support, C&K has design centers located in Newton, MA (USA), Dole France, and Huizhou China. In order to develop robust product designs and expedite time to market, C&K leverages design and analysis tools such as solid modeling CAD systems, FEA and dynamic motion software, mold flow analysis, 3D printing & SLA, X-ray, SEM/FTIR, thermal imaging, force testing, and sound analysis chambers. Finland Netherlands Germany Paris Hungary Dole Italy UK Minnesota Colorado San Francisco Arizona Dynamic x-ray analysis Tianjin Japan Beijing Korea Shanghai Huizhou Hong Kong Taiwan Malaysia Singapore MANUFACTURING TECHNOLOGY INTO SOLUTIONS Manufacturing and/or R&D C&K Sales Team C&K has been providing innovative solutions to our customers for over 50 Additional 49 Sales Rep offices throughout North America years, using our extensive industry and applications knowledge and the latest development and manufacturing techniques to solve the most difficult design challenges and provide customer and application specific solutions. Our manufacturing locations are ISO 9001 and TS16949 certified. To ensure quality, reliability, and long cycle life, as well as meet design to cost objectives, C&K maintains internal control of key manufacturing processes such as stamping, precision molding, plating, and high speed automatic assembly. Precision stamping and over molding tools designed and built by C&K Please visit www.ck-components.com to view C&K's full product offering and list of partners and distributors. The "Ask a specialist" function on the website allows direct contact to each C&K product manager to leverage your C&K product knowledge. High speed switch assembly machine designed and built by C&K Customized in-house testing capability GERMANY Central and Eastern Europe & Nordic High speed and high precision milling machine for tools and machine building FRANCE Southern and Western Europe Switch Solutions for BUILDING AND HOME AUTOMATION Applications HONG KONG Tel: +852.3713.5288 SHANGHAI Tel: +86.21.5413.0137 March 2015
Open the catalog to page 1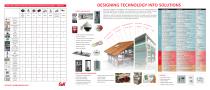 Designing Technology into Solutions switch solutions FOR BUILDING AND HOME AUTOMATION APPLICATIONS — products Smoke alarm Test & reset buttons Tact, Slide, Detect Smoke alarm Node / network address identification Carbon monoxide alarm Test & reset buttons Tact, Pushbutton C&K products, with their reputation for high quality and long cycle life, are ideally suited for demanding applications in harsh environments. By working directly with customers, C&K provides application specific, custom solututions to our customer's most challenging requirements. Glass break detector Test button,...
Open the catalog to page 2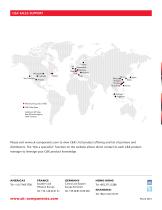 ENGINEERING TECHNOLOGY INTO SOLUTIONS Solutions to the challenges facing the Industrial market space require collaboration between customer and supplier. To provide Molding rheology simulation local engineer-to-engineer communication and support, C&K has design centers located in Newton, MA (USA), Dole France, and Huizhou China. In order to develop robust product designs and expedite time to market, C&K leverages design and analysis tools such as solid modeling CAD systems, FEA and dynamic motion software, mold flow analysis, 3D printing & SLA, X-ray, SEM/FTIR, thermal imaging, force...
Open the catalog to page 3
All C&K Components catalogs and technical brochures

Archived catalogs

Compare up to 10 products