Catalogs

>

JC LEAD-CALCIUM
Catalog excerpts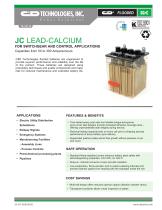 FOR SWITCHGEAR AND CONTROL APPLICATIONS Capacities from 50 to 300 Ampere-hours C&D Technologies flooded batteries are engineered to provide superior performance and reliability over the life of the product. These batteries are designed using proprietary techniques and quality components and materials for reduced maintenance and extended battery life. FEATURES & BENEFITS • lectric Utility Distribution E • Time tested epoxy post seal and reliable tongue-and-groove jar-to-cover seal designs provide increased adhesive coverage area – offering unprecedented seal integrity during service. Substations • Railway Signals • Electrical testing (capacity test) on every cell prior to shipping assures performance of every battery upon delivery. • Emergency Systems • Suspended positive plates permit free growth without pressure on jar and cover. • anufacturing Facilities M - Assembly Lines SAFE OPERATION - Process Controls • Petrochemical processing plants • Standard flame-retardant covers enhance battery plant safety with self-extinguishing properties, LOI>32%, UL 94V-0. • Snap-on, intercell connector covers provide insulation. • Low-evaporation, flame-arrester vent to extend watering intervals and prevent external sparks from reacting with the hydrogen inside the cell. COST SAVINGS • Multi-cell design offers reduced optimum space utilization (shorter racks). • Transparent container allows visual inspection of plates.
Open the catalog to page 1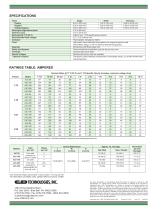 Note: Electrolyte weighs approximately 10 lbs per gallon (1.215 kgs per liter). For information on battery racks, please refer to brochure 12-560. 1400 Union Meeting Road Any data, descriptions or specifications presented herein are subject to revision by C&D Technologies, Inc. without notice. While such information is believed to be accurate as indicated herein, C&D Technologies, Inc. makes no warranty and hereby disclaims all warranties, express or implied, with regard to the accuracy or completeness of such information. Further, because the produces) featured herein may be used under...
Open the catalog to page 2
All C&D Technologies catalogs and technical brochures

Archived catalogs

Compare up to 10 products