Catalogs

>

CPV ? For Renewable Energy Storage
Catalog excerpts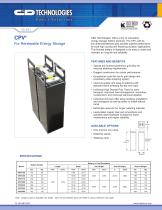 C&D Technologies' offers a line of renewable energy storage battery products. The CPV, with its low antimony/selenium grid, provides superior performance for both high cycling and float/long duration applications. This flooded battery is designed to be easy to install and maintain for long life and reliability. For Renewable Energy Storage FEATURES­AND­BENEFITS • Special low antimony/selenium grid alloy for reduced watering requirements • Rugged construction for robust performance • Exceptional cycle life due to grid design and proprietary plate wrapping system • Improved safety and ease of watering with standard flame arresting flip-top vent caps • Individual High Density Poly Trays for easy transport, improved heat management, secondary containment, and improved electrical isolation • Individual cell trays offer easy handling, installation, and changeout as well as ability to install without racks • Electrolyte reservoir for longer watering intervals • Lead-plated copper inter-cell connections and stainless steel hardware included for lower maintenance and higher reliability WIDTH AVAILABLE­OPTIONS • One and two row racks • Watering wands • Watering carts OVERALL HEIGHT CELL HEIGHT Battery in Tray Dimensions Length inch Cell Height Overall Height Note: Length is used to calculate rack length - add 0.75 inch between each cell. Width is used to determine rack depth.
Open the catalog to page 1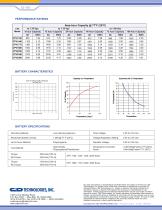 Cell Model Cycle Life Versus Depth of Discharge Cell Type: CPV Expected Cycle Life BATTERy­SPECIFICATIONS Grid Alloy Material: Float Voltage: Electrolyte Specific Gravity: Voltage Regulation Setting: Equalize Voltage: Tray Material: High Density Polypropylene/Polyethylene Temperature Correction Factor: Torque: Re-Torque: Torque: Re-Torque: 1400 Union Meeting Road P.O. Box 3053 • Blue Bell, PA 19422-0858 (215) 619-2700 • Fax (215) 619-7899 • (800) 543-8630 customersvc@cdtechno.com www.cdtechno.com Any data, descriptions or specifications presented herein are subject to revision by C&D...
Open the catalog to page 2
All C&D Technologies catalogs and technical brochures

Archived catalogs

Compare up to 10 products