Catalogs

>

Bürkle

>

Safe sampling of toxic media
Catalog excerpts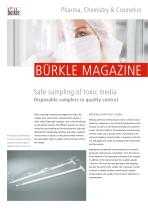 Pharma, Chemistry & Cosmetics Safe sampling of toxic media Disposable samplers in quality control When sampling hazardous and aggressive media, the sampler must ensure that a representative sample is taken safely. Disposable samplers, such as the MicroDispo, are the perfect solution: The different variants are characterized by easy handling and sterile production. Specially developed for demanding sampling, granulates, powders, The disposable sampler MicroDispo viscous media or liquids can be professionally removed - is produced, assembled, individually this guarantees safety in quality control and the purity of packaged and optionally gamma- radiation sterilized in a clean room. Working with toxic media Working with toxic media always means a certain risk potential for companies in the chemical and pharmaceutical industry as well as in the food & beverage and cosmetics sectors. This exists both in the production and processing of these media and in quality control. Particularly in the course of sampling, utmost caution is required, as hazardous and aggressive media can endanger the environment and the workers. Appropriate occupational safety measures are essential during the entire process of sampling - from the removal of the medium to the subsequent cleaning of the sampler. In addition to the trained worker, the suitable sampler is decisive. This must not only guarantee safe sampling, but also the purity of the sample. This is because in order to obtain a reliable statement about product quality during analysis, the sample must be free of impurities or contamination.
Open the catalog to page 1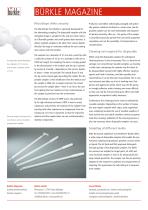 MicroDispo offers security The MicroDispo from Bürkle is especially developed for the demanding sampling. The disposable sampler with the elongated shape is suitable for the safe and clean removal of flowable powder and small grained bulk material. It allows targeted samples to be taken from various depths directly from bags or containers without the user coming into contact with the medium. The sampler has a diameter of 21 mm and a small tip with The disposable sampler MicroDispo has a diameter of 21 mm and a small tip with a collection volume of 10 ml. a collection volume of 10 ml. It is...
Open the catalog to page 2
All Bürkle catalogs and technical brochures

Compare up to 10 products