Catalogs

>

Bürkle

>

New Products 2023
Catalog excerpts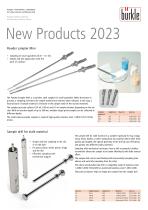 Pumpen | Probenehmer | Laborbedarf für Labor, Industrie und Wissenschaft Pumps | Sampling | Labware for Laboratory, Industry, Science New Products 2023 Powder sampler Mini  Sampling of small quantities (0.01 – 0.1 ml)  Simple and fast application with the push of a button The Powder Sampler Mini is a stainless steel sampler for small quantities. When the button is pressed, a sampling rod enters the sample material and retracts when released. In this way, a fixed amount of sample material is enclosed in the sample notch of the rod and removed. The sampler precisely collects 0.01 ml, 0.05 ml and 0.1 ml sample volumes, depending on the version. With an insertion depth of up to 300 mm, multiple target point samples can be collected at different depths. The small-volume powder sampler is made of high-quality stainless steel 1.4404/1.4571 (316L/ 316Ti). Sample drill for stalk material  Simple and fast sampling in the silo or on the bale  For grass plants, whole plants, silage and the like  Effortless sampling with mechanical support The sample drill for stalk material is a sampler especially for hay, silage, straw, herbs, bushes or other stalky plant dry material where other drills quickly get tangled. The special geometry of the drill tip cuts effectively and quickly into different stalky materials. Sampling with mechanical assistance from a drill or powerful cordless screwdriver allows the sample to be taken effortlessly with little manual effort. The sample drill can be used flexibly both horizontally (sampling from above) and vertically (sampling from the side). The robust and durable tube drill is completely made of stainless steel 1.4404/1.4034 (316L/420) or aluminium/stainless steel 1.4034 (420). The practical ejector helps to empty the sample from the sample drill.
Open the catalog to page 1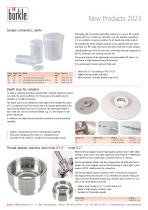 New Products 2023 Sample containers, sterile The handy and universally applicable sample jar is easy to fill, smoothwalled and free of undercuts, therefore it can be emptied completely. It is an excellent universal container for all liquid and solid contents. The attached lid of the sample container can be opened with one hand and fixed at a 90° angle. This leaves the other hand free to take samples. Liquid/condensate in the lid runs into a collecting channel integrated in the lid, nothing is lost, nothing can drip off. The special feature of the lightweight and unbreakable PP tube is its...
Open the catalog to page 2
All Bürkle catalogs and technical brochures

Compare up to 10 products