Catalogs

>

BuhlEx_S
Catalog excerpts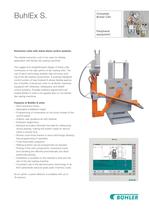 BuhlEx S. Complete. Buhler Cell. Peripheral equipment. Extraction units with stand-alone control systems. The reliable extraction unit in two sizes for flexible application with Buhler die casting machines. The rugged and straightforward design of these units contributes to the high uptime of die casting cells. The use of servo-technology enables high-accuracy picking of the die casting components. A purpose-designed control system of type Datanet S allows flexible application of BuhlEx S extraction units on all Buhler machines equipped with Datacess, Dataspeed, and Datafit control systems. Possible interface adjustments will enable BuhlEx S units to be applied also on non-Buhler die casting machines. Features of BuhlEx S units: – Short extraction times. – Adjustable installation height. – Programming of movements on the touch-screen of the control panel. – Graphic user guidance as with Datanet. – Extensive diagnostics. – Absolute encoders eliminate the need for referencing during starting, making the system ready for service within a shorter time. – horter cycle times thanks to servo-technology allowing S free programming of velocities. – Three fixed basic programs. – Waiting position can be programmed as required. – Picking of the cast components, transverse travel, and swiveling are effected pneumatically and allow positioned placing. – nstallation is possible on the operator's side and the I rear of the die casting machine. – Consistent use of the identical servo-technology in all Buhl peripherals reduces spare parts inventory costs. As an option, a parts detector is available with up to 16 sensors.
Open the catalog to page 1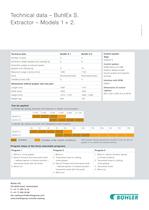 Technical data - BuhlEx S. Technical data Extraction weight (gripper and casting) kg Extraction weight at reduced speed Maximum range of action (mm) Dimensions without gripper and cast part Control system Control system: Graphic display screen on Buhler die casting machines with Datacess or Datafit control systems on Buhler die casting machines with Dataspeed control systems Suitable under certain conditions With possible interface adjustments, BuhlEx S units can also be applied on non-Buhler die casting machines. Program steps of the three selectable programs 1. Move in, close gripper 2....
Open the catalog to page 2
All Bühler Group catalogs and technical brochures

Archived catalogs

Compare up to 10 products