Catalogs

>

AeroPro Advanced Controls Retrofit.
Catalog excerpts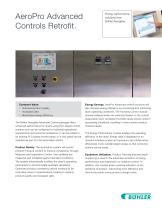 AeroPro Advanced Controls Retrofit. Customer Value: – – Improved product quality – – Increased yield – – Maximized energy efficiency The Bühler Aeroglide Advanced Control package offers enhanced performance for dryers using PLC-based control systems and can be configured to individual operational requirements and customer preference. It can be added to an existing PLC-based control panel, or a new panel can be supplied as part of a full automation retrofit. Product Quality. The automation system will control product moisture content to improve consistency through Moisture and Evaporation Control. Key variables are measured and modelled against standard conditions. The system automatically modifies the dryer's operating parameters to accommodate upstream deviations. Optimized product consistency allows moisture to be controlled closer to specifications, leading to superior product quality and increased yield. Energy performance solutions from Bühler Aeroglide. Energy Savings. AeroPro Advanced control functions will also increase energy efficiency by monitoring and optimizing dryer operating conditions. The Humidity Control module ensures exhaust levels are optimized based on the current evaporation load. Consistent humidity levels ensure uniform processing conditions, resulting in more uniform product moisture levels. The Energy Performance module displays the operating efficiency of the dryer. Energy data is displayed on an operator interface screen and operators are notified when efficiencies move outside target ranges so that corrective actions can be made. Equipment Utilization. Product Tracking and bed depth monitoring is used in the automatic activation of energy performance and evaporation or moisture control. In addition, this module gives a precise indication of the presence of product, maximizing dryer efficiency and minimizing waste during product
Open the catalog to page 1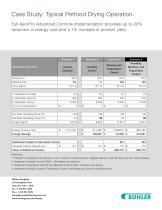 Dry Bulb Operating Temp (C°) Energy Cost per Year Additional Product to Sell (metric ton/yr) 1. Product is frequently over-dried by 1-2% in order to remain below a targeted setpoint, and the dryer has too much exhaust. 2. Implement Humidity Control ONLY. Eliminates over-exhaust. 3. Implement Evaporation Control and Moisture Control ONLY. Corrects over-drying. 4. Implement Humidity Control, Evaporation Control, and Moisture Control to optimize dryer.
Open the catalog to page 2
All Bühler Group catalogs and technical brochures

Archived catalogs

Compare up to 10 products