Catalogs

>

Thermal Processor Model TPX 201
Catalog excerpts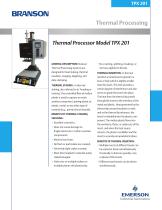 Thermal Processing Thermal Processor Model TPX 201 GENERAL DESCRIPTION: Branson Thermal Processing Systems are designed for heat staking, thermal insertion, swaging, degating, and date stamping. THERMAL STAKING: In thermal staking, also referred to as "heading or riveting," the controlled flow of molten plastic is used to capture or retain another component, joining plastic to plastic, metal, or any other type of material (e.g., printed circuit boards). BENEFITS OF THERMAL STAKING/ SWAGING: • Excellent cosmetics. • Does not cause damage to fragile electronic or other sensitive components. • Minimal tool wear. • No flash or particulate are created. • Extremely tight stakes created. • Most thermoplastic materials easily staked/swaged. • Stake one or multiple stakes on multiple planes simultaneously. • No cracking, splitting, breaking, or stresses applied to bosses. THERMAL INSERTION: In thermal insertion a metal insert is placed in a boss or hole which is slightly smaller than the insert. This hole provides a certain degree of interference and also serves to guide the insert into place. The heat from the thermal tip travels through the insert to the interface of the metal and plastic. Heat generated by the thermal tip causes the plastic to melt, and as the thermal tip advances, the insert is imbedded into the plastic component. The molten plastic flows into the serrations, flutes, or undercuts of the insert, and when the heat source retracts, the plastic resolidifies and the insert is securely encapsulated in place. BENEFITS OF THERMAL INSERTION: • Multiple inserts at different levels can be seated or driven simultaneously. Practically no limit on quantity, size, or plane of the inserts. • Different sized inserts can be driven simultaneously.
Open the catalog to page 1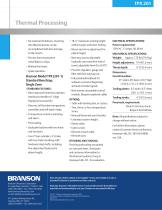 Thermal Processing • No material limitations. Inserting into filled materials can be accomplished with less damage to the inserts. • Process does not produce metal flakes or chips. • Minimal tool wear. • Quiet operation. Branson Model TPX (201-1) Standard Benchtop, Single Zone STANDARD FEATURES: • New improved Unitronics operator interface/controller w/ 3 digit Display & Increased I/O. • Discrete, full-function temperature controllers and self-teach mode. • Temperature control monitoring and alarm. • 18-½" maximum working height without upper and lower tooling. • Macro and micro adjustment...
Open the catalog to page 2
All Branson Ultrasonics catalogs and technical brochures

Archived catalogs

Compare up to 10 products