Catalogs

>

IC Series
Catalog excerpts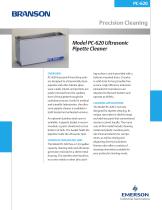 Precision Cleaning Model PC-620 Ultrasonic Pipette Cleaner OVERVIEW PC-620 Bransonic® benchtop units are designed to ultrasonically clean pipettes and other tubular glassware. Lipids, blood, and proteins are easily removed from the capillary bore of the pipette through the cavitation process. Useful in medical and scientific laboratories, the ultrasonic pipette cleaner is available in both heated and unheated versions. An optional stainless steel cover is available. A pipette basket is recommended, as parts should not rest on bottom of tank. The basket holds the pipettes inside the ultrasonic tank. COMPLETE INTEGRATED UNIT The Model PC-620 has a 2-3/4 gallon capacity cleaning tank and ultrasonic generator enclosed in a sheet metal housing. The stainless steel tank has no corner welds or other dirt catch- ing surfaces, and is provided with a bottom mounted drain. Circuitry is solid state for long trouble-free service. High efficiency industrial piezoelectric transducers are attached to the tank bottom and operate at 40 kHz.. CLEANING APPLICATIONS The Model PC-620 is not only designed for pipette cleaning. Its unique size makes it ideal for large and odd-size parts that conventional cleaners cannot handle. The many uses of this model include cleaning metal and plastic machine parts, electrical and electronic components, as well as mixing and degassing chemical solutions. Branson also offers a variety of cleaning chemistries suitable for your particular cleaning needs.
Open the catalog to page 1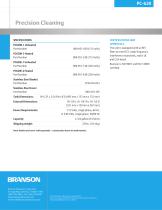 Precision Cleaning SPECIFICATIONS PC620R-1 Unheated Part Number PC620R-2 Heated Part Number PC620E-1 Unheated Part Number PC620E-2 Heated Part Number Stainless Steel Basket Part Number Stainless Steel Cover Part Number Tank Dimensions: External Dimensions: Power Requirements: 115 Volts, single phase, 60 Hz, or 230 Volts, single phase, 50/60 Hz Capacity: Shipping weight: Note: Basket and cover sold separately – cannot place items on tank bottom. Branson Ultrasonics Corporation 41 Eagle Road, Danbury, CT 06813-1961 (203) 796-0400 • Fax: (203) 796-9838 www.bransonultrasonics.com e-mail:...
Open the catalog to page 2
All Branson Ultrasonics catalogs and technical brochures

Archived catalogs

Compare up to 10 products