Catalogs

>

Cleaning Baskets
Catalog excerpts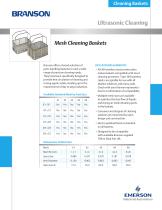 Cleaning Baskets Ultrasonic Cleaning Mesh Cleaning Baskets Branson offers a broad selection of parts handling baskets to meet a wide range of precision cleaning needs. They have been specifically designed to provide free circulation of cleaning and rinsing agents while standing up to the requirements of day to day production. Available Standard Mesh by Tank Size • Multiple mesh sizes are available to optimize the free flow of liquids and drying air while retaining parts in the baskets. • All 304 stainless steel construction makes baskets compatible with most cleaning processes. Type 304 stainless steel is acceptable for use with all alkaline solutions and many acids. Check with your Branson representative for confirmation of compatibility. • Carryover and dragout of cleaning solution are minimized by open design and construction. • Electro polished finish is standard on all baskets. • Designed to be compatible with available Branson supplied TDR or Dual Axis Lift. Dimensions of Mesh Size Mesh: Space Size: Wire Diameter: Open Area %:
Open the catalog to page 1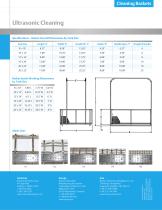 Cleaning Baskets Ultrasonic Cleaning Specifications – Basket Overall Dimensions by Tank Size Tank Size Weight (Pounds) Basket Inside Working Dimensions by Tank Size 6" x 10" Mesh Sizes Branson Ultrasonics Corp. 41 Eagle Road Danbury, CT 06813-1961 T: 800-732-9262 F: 203- 796-2250 www.bransonultrasonics.com Branson Ultraschall Niederlassung der Emerson Technologies GmbH & Co. OHG Waldstrasse 53-55 63128 Dietzenbach, Germany T: +49-6074-497-0 F: +49-6074-497-199 www.branson.eu Branson Ultrasonics (Shanghai) Co., Ltd. 758 Rong Le Dong Road Song Jiang, Shanghai, PRC, 201613 T: 86-21-3781-0588...
Open the catalog to page 2
All Branson Ultrasonics catalogs and technical brochures

Archived catalogs

Compare up to 10 products