Catalogs

>

BOURNS

>

CG0402MLE/ CG0603MLE
Catalog excerpts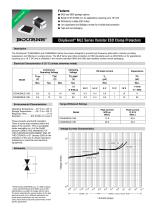 ■ Rated for IEC 61000-4-2, for applications requiring up to 18 V DC ■ Withstands multiple ESD strikes ■ Low capacitance and leakage currents for invisible load protection ■ Tape and reel packaging ChipGuard® MLE Series Varistor ESD Clamp Protectors Description The ChipGuard® CG0402MLE and CG0603MLE Series have been designed to provide high frequency attenuation, thereby providing suppression and filtering in a single device. The MLE family also offers protection to ESD standards such as IEC61000-4-2 for applications requiring up to 18 V DC and is available in the industry standard 0603 and 0402 type leadless surface mount packaging. Electrical Characteristics @ 25 °C (unless otherwise noted) Continuous Operating Voltage Clamping Voltage Off-state Current Environmental Characteristics Surge Withstand Ratings CG0402MLE-18G These products are RoHS compliant. There is some lead contained within the glass of the ceramic. This is acceptable under exemption no. 5 of the RoHS directive (DIRECTIVE 2002/95/EC OF THE EUROPEAN PARLIAMENT AND OF THE COUNCIL of 27 January 2003 on the restriction of the use of certain hazardous substances in electrical and electronic equipment). Voltage-Current Characteristics Voltage (Volts) *RoHS Directive 2002/95/EC Jan. 27, 2003 including annex and RoHS Recast 2011/65/EU June 8, 2011. Specifications are subject to change without notice. The device characteristics and parameters in this data sheet can and do vary in different applications and actual device performance may vary over time. Users should verify actual device performance in their specific applications. SOURCE = 8/20 μs PULSE, IPEAK
Open the catalog to page 1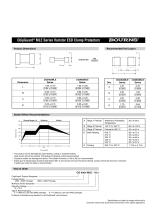 ChipGuard® MLE Series Varistor Potentiometer 3312 - 2 mm SMD Trimming ESD Clamp Protectors Product Dimensions Solder Reflow Recommendations Preheat Stages 1-3 Ambient to Preheating Temperature Main Heating Time (seconds) This product can be damaged by rapid heating, cooling or localized heating. Heat shocks should be avoided. Preheating and gradual cooling recommended. Excessive solder can damage the device. Print solder thickness of 150 to 200 um recommended. Solder gun tip temperature should be kept below 280 °C and should not touch the device directly. Contact should be less than 3...
Open the catalog to page 2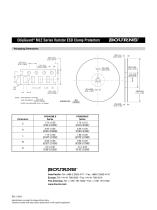 ChipGuard® MLE Series Varistor ESD Clamp Protectors Packaging Dimensions 13.0 ± 1.0 (0.52 ± 0.04) NOTES: TAPE MATERIAL IS PAPER. 0.48 ± 0.03 TAPE THICKNESS IS (0.019 ± 0.0012) COVER TAPE ADHESION IS 40 ± 15 GRAMS. REV. I 09/12 Specifications are subject to change without notice. Customers should verify actual device performance in their specific applications.
Open the catalog to page 3
All BOURNS catalogs and technical brochures

Archived catalogs

Compare up to 10 products