Catalogs

>

BOGE

>

NITROGEN GENERATOR
Catalog excerpts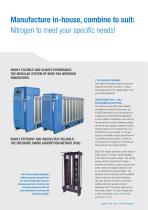 HIGHLY FLEXIBLE AND ALWAYS EXPANDABLE: THE MODULAR SYSTEM OF BOGE PSA NITROGEN GENERATORS. HIGHLY EFFICIENT AND ABSOLUTELY RELIABLE: THE PRESSURE SWING ADSORPTION METHOD (PSA). The Pressure Swing Adsorption method separates nitrogen from the other components in the air. Nitrogen generators comprise two connected containers that are used alternately to continuously adsorb the oxygen. 1 TO 8 MODULES PER BANK: The modules are simply screwed on and can be expanded at any time, as required - to allow optimal adjustment of the nitrogen output to suit your actual requirements. MASTER BANK PLUS 1,...
Open the catalog to page 2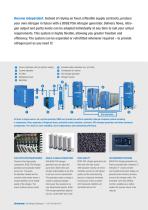 Become independent: Instead of relying on fixed, inflexible supply contracts, produce your own nitrogen in future with a BOGE PSA nitrogen generator. Delivery flows, nitrogen output and purity levels can be adapted individually at any time to suit your actual requirements. This system is highly flexible, allowing you greater freedom and efficiency. The system can be expanded or retrofitted whenever required – to provide nitrogen just as you need it! Screw compressor with oil-injection cooling Cyclone separator Pre-filter Refrigerated dryer Microfilter 3 Activated carbon adsorber (incl....
Open the catalog to page 3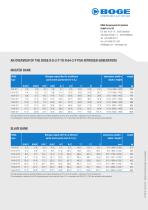 BOGE Compressed Air Systems GmbH & Co. KG P.O. Box 10 07 13 ■ 33507 Bielefeld Otto-Boge-StraBe 1-7 ■ 33739 Bielefeld Tel. +49 5206 601-0 Fax +49 5206 601-200 info@boge.com ■ www.boge.com The data provided is based on standard conditions at an ambient temperature of 20°C, 60 % air humidity, + altitude and 7.5 bar inlet pressure. The compressed air required for the PSA nitrogen generator must comply with class 1:4:1 in accordance with ISO 8573-1:2010 (plus activated carbon adsorber). 372-EN-BI-1-03.2017/d ■ Subject to technical changes. Errors excepted.
Open the catalog to page 4
All BOGE catalogs and technical brochures

Archived catalogs

Compare up to 10 products