Catalogs

>

General Purpose Inverter E3
Catalog excerpts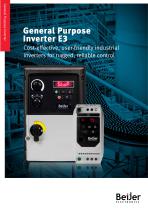 Order number Part number Drive specifications Beijer ELECTRONICS Head office Beijer Electronics AB Box 426, Stora Varvsgatan 13a SE-201 24 Malmo, Sweden www.beijer.se | +46 40 35 86 00 Feature Technical data Input ratings General Purpose Inverter E3 Cost-effective, user-friendly industrial inverters for rugged, reliable control Order nr: BREN613E Copyright © 2019.03 Beijer Electronics. All rights reserved. The information at hand is provided as available at the time of printing, and Beijer Electronics reserves the right to change any information without updating this publication. Beijer Electronics does not assume any responsibility for any errors or omissions in this publication.
Open the catalog to page 1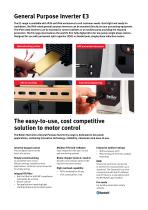 General Purpose Inverter E3 The E3 range is available with IP20 and IP66 enclosures to suit customer needs. Dust-tight and ready for washdown, the IP66-rated general purpose inverters can be mounted directly on your processing equipment. The IP20-rated inverters can be mounted in control cabinets or in machine parts providing the required protection. The E3 range also features the world's first fully digital drive for low power single phase motors. Designed for use with permanent split capacitor (PSC) or shaded pole, single phase induction motors. Optional braking resistor IP20 The...
Open the catalog to page 2
All Beijer Electronics catalogs and technical brochures

Archived catalogs

Compare up to 10 products