Catalogs

>

BARTEC

>

DPA
Catalog excerpts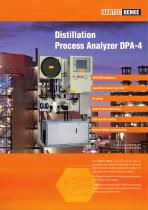 Distillation Process Analyzer DPA-4 Capability to reduce cycle time** State-of-the-art technology Network Fieldbus communication * in Standard Analysis Method SAM ** in Rapid Analysis Method RAM We, BARTEC BENKE, represent over 50 years of experience and specialist knowledge in analytical instruments and analytical systems for control and optimization of production processes in plants. Our Physical Property Process Analyzers are synonymous with excellence and reliability. To meet market demands, BARTEC BENKE is continuously developing new products that are internationally known for their quality and innovation.
Open the catalog to page 1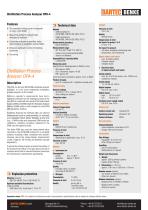 Distillation Process Analyzer DPA-4 Features Technical data Method SAM compliant to ASTM D86, DIN EN ISO 3405, P123 I The complete boiling curve is measured in every cycle (SAM) Measuring points of interest freely definable by software Coolant Pressure at inlet 2 to 7 bar Cycle time reduction is possible: faster determination of distillation points (RAM) Measurement procedure batch distillation Enhances automatic control of blending processes output of any temperature/distillate amount via Modbus Repeatability & reproducibility < ISO/ASTM Measuring cycle typical time for diesel/gasoline in...
Open the catalog to page 2
All BARTEC catalogs and technical brochures

Compare up to 10 products