Catalogs

>

High reliable resistance vacuum measurement
Catalog excerpts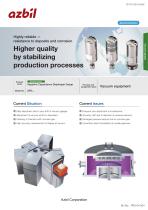 Highly reliable — resistance to deposits and corrosion Vacuum gauges Vacuum gauges Higher quality by stabilizing production processes Product name Model No. Process sensor Sapphire Capacitance Diaphragm Gauge Process and equipment name Vacuum equipment Current Situation Current Issues Daily adjustment due to zero shift of vacuum gauges. Frequent zero adjustment is troublesome. Adjustment of vacuum as film is deposited. Accuracy drift due to deposits on pressure sensors. Cleaning of chamber with corrosive gas. Damaged pressure sensors due to corrosive gas. High-accuracy measurement of degree of vacuum. Uncertainty about traceability at outside agencies.
Open the catalog to page 1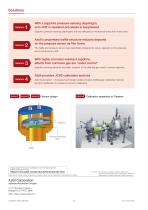 With a sapphire pressure-sensing diaphragm, zero shift in repeated processes is suppressed Sapphire pressure-sensing diaphragms are less affected by mechanical stress than metal ones. Azbil's proprietary baffle structure reduces deposits on the pressure sensor as film forms The baffle and pressure sensor were specifically designed to reduce deposits on the pressure and avoid accuracy drift. With highly corrosion-resistant sapphire, effects from corrosive gas are "under control" Sapphire sensing elements are highly resistant to the cleaning gas used to remove deposits. Azbil provides JCSS...
Open the catalog to page 2
All Azbil Europe NV catalogs and technical brochures

Compare up to 10 products