Catalogs

>

AWE 110 Series Small Size Wire Encoders
Catalog excerpts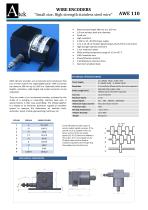 WIRE ENCODERS "Small size, High strength stainless steel wire" AWE 110 Measurement length 300 mm to 1.250 mm 0,5 mm stainless steel wire diameter Small size High resolution 5 VDC or 10...30 VDC Power supply A, B, Z, /A, /B, /Z Encoder Signal Outputs (Push-Pull or Line Driver) High strength stainless steel wire 2 m/s maximum speed Wide working temperature range of -25 to +85 °C IP65 Protection class Shock/Vibration resistant 2,4N Maximum extension force Aluminum anodized body AWE 110 wire encoders are incremental wire transducers that turn a linear motion into coded digital pulses. AWE 110 series can measure 300 mm up to 1250 mm. Optionally other stroke lengths, resolution, cable length and socket connector can be requested. They are made of an incremental encoder, activated by the stroke of a, winding or unwinding, stainless steel wire. A special fe ature is their easy assembling. The linking together to a disp lay or an electronic positioner supplies an excellent system to measure the dimensions on machine tools, automatic, wood, marble, glassworking machinery etc. TECHNICAL SPECIFICATIONS PIN NO SIGNAL CABLE COLOR YELLOW WHITE RED BLACK BLUE GREEN GREY PINK SHIELD MECHANICAL DIMENSIONS In the left tablet he cable colors of sensors output signals are given. If the control circuit is suitable in the Line Driver sensors of the not output signals (/A, /B, /Z) have to be added to the system. If it is not suitable /A, /B, /Z signal cables must be fixed as insulated separately. Don't forget that these edges have electricity too.
Open the catalog to page 1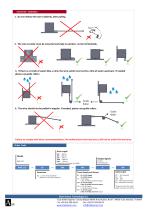 MOUNTING - WARNINGS 1. Do not release the wire suddenly, after pulling. 2. The wire encoder must be mounted vertically in position, not be horizontally. 3. If there is a trickle of water (like a rain), the wire outlet must not be a drip of water upstream. If needed please use guide rollers. Guide Roller 4. The wire should not be pulled in angular. If needed, please use guide rollers. Guide Roller Failure to comply with these recommendations, the malfunctions that may occur will not be under the warranty. Order Code Output Signals 3 (A,B,Z) 6 (A,/A,B,/B,Z,/Z) * Please ask us for longer wire...
Open the catalog to page 2
All ATEK SENSOR TECHNOLOGIE catalogs and technical brochures

Archived catalogs

Compare up to 10 products